Apple Store is down: new Mac Pro, iMac and Magic Trackpad incoming?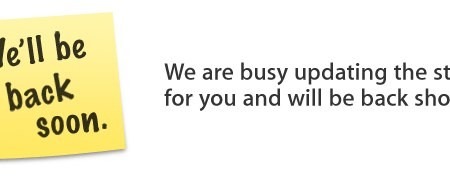 We've been keeping an eye on the Apple Store all morning, and sure enough it's been taken offline for "updating".  There's been no shortage of rumors and leaks regarding what we can expect to see lining the shelves later on today, but most likely are updates for the Mac Pro and iMac.
Both are expected to get a new range of processor options, with a high-end hexacore Intel Core i7 for the Mac Pro and a new, entry-level Core i3 option for the iMac.  Obviously the middle-ground will be populated with various Core i5 and i7 chips too.  There's also talk of USB 3.0 and some form of faster FireWire, though still no Blu-ray.
Slightly less likely, perhaps, is the talk of a touchscreen iMac which could dual-boot into iOS; that's been tipped as the ideal way for iPhone and iPad developers to code and test new software, but we'd expect something as significant as that to get a full press event rather than be slipped into the store.  Finally, there's the Apple Magic Trackpad, which has also been tipped for an imminent release.