Apple slim keyboard tech could make Air-thick MacBook Pro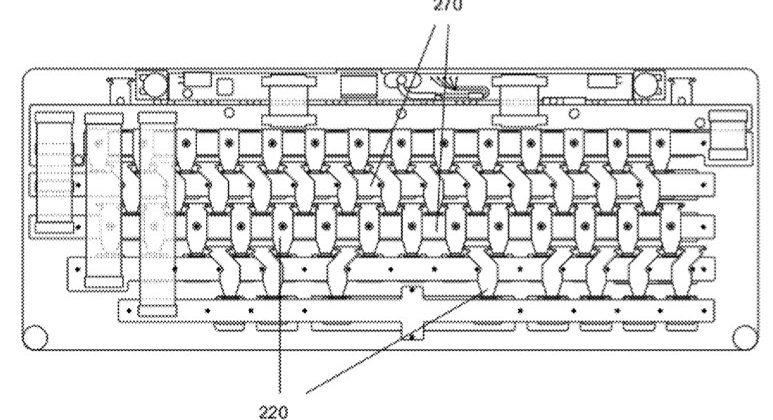 Apple has developed an ultra-slim keyboard design that would allow future MacBook Pro notebooks and others to be even thinner, delivering a layout both tactile enough to suit typists and compact enough for Apple's own design ambitions. Described in a patent application for a "Single Support Lever Keyboard Mechanism" the keyboard is "a thin profile peripheral input device that is both efficient and aesthetically pleasing" Apple writes, as well as opening up new aesthetic possibilities, such as keycaps made from silicone, wood, stone, glass or even polished meteorite.
"The keyboard includes a key cap that can be formed of a variety of materials in the form of a flat slab. The key cap is attached to one end of a support lever that supports it from underneath. In one embodiment, the support lever is formed of a rigid material and is pivotally coupled with a substrate on the other end. In another embodiment, the support lever is formed of a flexible material and is fixedly attached to the substrate on the other end. The portion of the support lever that is attached to the key cap is positioned over a metal dome that can be deformed to activate the switch circuitry of the membrane on printed circuit board underneath the dome" Apple patent application
Existing laptop keyboards such as the current-gen MacBook Pro and MacBook Air use scissor-switch keys, with two supports and a keycap that depresses onto a rubber dome. By switching to a single-support lever design, Apple could bypass contact between the keycap and the underlying dome and electronics, as well as avoid the necessity for complex molding on the underside of the cap to clip to the scissor-switch hardware.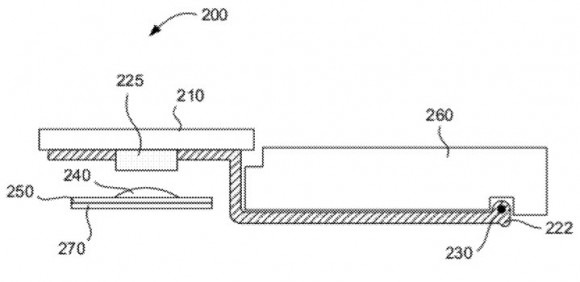 Apple would also use metallic domes rather than the traditional rubber ones, which would provide the desired "bounce-back" feel to suit typists, even with much-reduced travel. Some of Apple's designs would have just 0.2-0.5mm of travel, compared to 1.5-2mm for scissor-switch or 3.5-4mm for standard dome-switch keys; the metallic domes would even allow for tactile feedback with just 0.1-0.2mm travel.
"The skilled artisan will appreciate that it is desirable to make the keyboard (and computing device) thinner, but users still want the tactile feel to which users are accustomed. It is desirable for the keys to have some "bounce-back" or "snappy" feel. As can be appreciated by the skilled artisan, substantially flat keyboards, such as membrane keyboards, do not provide the tactile feel that is desirable for a keyboard. Similarly, simply reducing the travel of a typical rubber dome scissor-switch keyboard also reduces the tactile or "snappy" feel that a conventional dome-switch keyboard provides" Apple patent application
With a 0.5-1mm thick keycap, that would still make for a significantly thinner keyboard assembly, and thus allow Apple to shave valuable space off of the key tray. "One advantage of the invention is that a low-travel keyboard yet may be provided for a thin-profile computing device" Apple writes, "without compromising the tactile feel of the keyboard."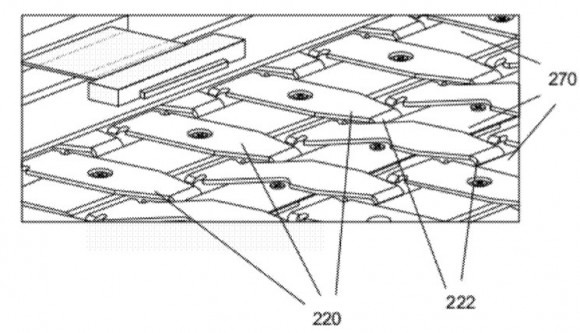 Numerous reports have indicated that Apple is looking to follow the success of the MacBook Air with a significantly redesigned MacBook Pro. As well as removing the optical drive and minimizing the ports on offer, Apple is expected to switch solely to solid-state drives.
[via AppleInsider]