Apple SIM on iPad Air 2 -- Apple's new carrier control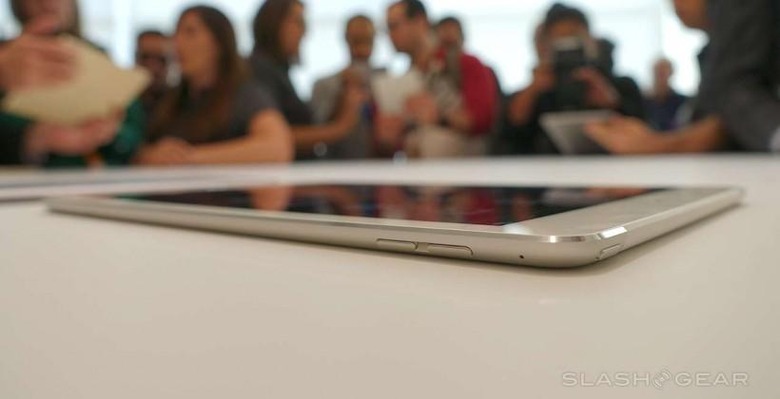 With all the Apple news coming out today, it's something they didn't discuss that is making a big impact on us here at SlashGear. In what's being called an "Apple SIM", we're being offered a new way to connect to carriers with an iPad Air 2 that's equipped with cellular connectivity. It's a curious notation on the day, but suggests Apple is taking control of the iPad Air 2, and carriers. Even more telling of that is that Verizon isn't listed as a carrier partner for the Apple SIM.
Via the iPad Air 2 page concentrated on connectivity, we see talk of this Apple SIM. The newest cellular tablet form Apple has this Apple SIM "preinstalled", to which Apple says "the Apple SIM gives you the flexibility to choose from a variety of short-term plans from select carriers in the U.S. and UK right on your iPad."
That's great — if you want service via AT&T, Sprint, T-Mobile, or EE (in the UK, obviously). Outside of those four partners, you seem to be out of luck.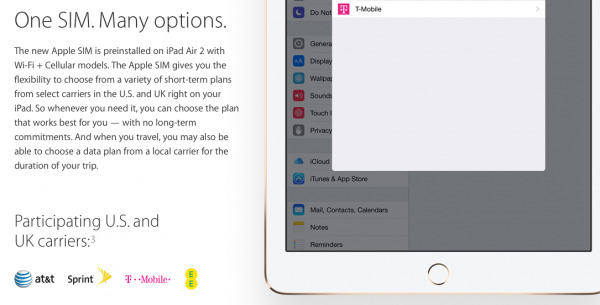 Even more telling is that the Apple SIM
may not be removable
Edit: it is. The description of the Apple SIM also has non-committal language like "you may also be able to choose a data plan from a local carrier".
Is this Apple's way of increasing control on connectivity? We're not sure yet, but it seems so. Apple isn't talking pricing of plans on their site, but does say you can choose one from those carriers as you wish. A notable holdout for "unlocked" devices on their network, Verizon, is also missing from the list.
Considering Sprint uses the same CDMA technology as Verizon relies on, we're left to speculate they aren't pleased with the Apple SIM scheme. The ability to switch carriers on the fly is great, but what about choice? It seems Apple is guiding your hand on that one with the iPad Air 2.
Update: Re/Code's Ina Fried is reporting those who want to use the iPad Air 2 on Verizon will need a different SIM, which means they don't plan on supporting the Apple SIM for some reason.