Apple signs 'Carpool Karaoke' as Apple Music exclusive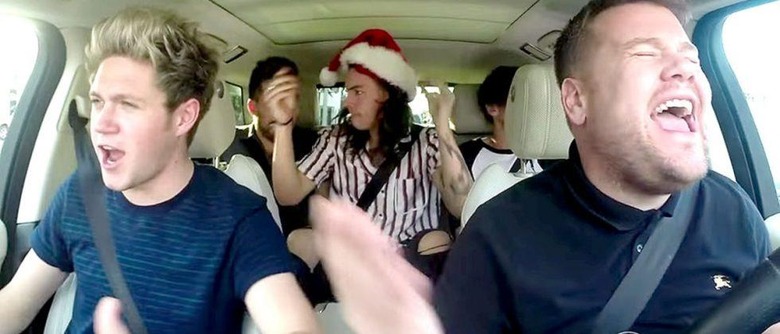 Unless you've been living under a rock recently, you've likely seen what a hit "Carpool Karaoke," the segment from CBS's Late Late Show where host James Corden drives around with a celebrity or musician singing hit songs, has become, especially on YouTube. It's become so popular that even Apple has come knocking, as the Cupertino giant has signed a deal for the rights to turn Carpool Karaoke into an exclusive TV show for Apple Music.
According to The Hollywood Reporter, the deal is for 16 episodes of the show, with one being released weekly on Apple Music once it's ready to premiere — although no date has been set yet. CBS Television will continue to produce the episodes, but it doesn't look like Corden will be the host.
"We love music, and Carpool Karaoke celebrates it in a fun and unique way that is a hit with audiences of all ages," said Eddy Cue, Apple's head of internet software and services. "It's a perfect fit for Apple Music."
On The Late Late Show, the Carpool Karaoke segment has seen stars and artists including Stevie Wonder, Adele, Red Hot Chili Peppers, Elton John, Justin Bieber, One Direction, and many more, with the most recent being First Lady Michelle Obama. Each episode seems to become an instant viral hit on YouTube, with the Adele episode generating over 119 million views, while the Obama episode, which was just released on July 20th, already has 33 million views.
With those numbers, it's easy to understand why Apple would want to sign the show as an exclusive. Plus, the company is probably betting on a repeat of "Lip Sync Battle," a popular segment from The Tonight Show Starring Jimmy Fallon that was spun-off into a hit show on the Spike TV network.
In addition to a new host, Apple Music's version of Carpool Karaoke will differ from the segment on Corden's show. It seems Apple will have its show focus a bit more on the celebrities surprising their fans and making visits to special locations, in addition to singing their favorite songs.
SOURCE Hollywood Reporter, CBS