Apple settles MagSafe class-action lawsuit, details cash payment to customers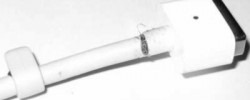 Apple notified customers today that it has reached a settlement on the class-action lawsuit pertaining to faulty T-shaped MagSafe adapters on the MacBook and MacBook Pro notebooks. The lawsuit was filed back in 2009 following several instances of the adapter becoming frayed and becoming a fire hazard. In a separate case, the strained MagSafe adapter was said to have caused a major fire at a home in Connecticut.
Apple has since redesigned the MagSafe with a new L-shape that puts less stress on the cable. The company has also been providing a replacement program for old MagSafe adapters, but has updated the program's support documents today to reflect changes from the class-action settlement.

The settlement applies to customers that purchased a replacement adapter within the first three years of owning a MacBook or MacBook Pro that came with a T-shaped adapter. Those customers that purchased the replacement in the first year of ownership could get a cash payment from Apple of $79. Second- and third-year replacements could get up to $50 and $35, respectively.
If you fall into the settlement category and would like to find out more details on how to get the cash payment, you can visit the settlement website at adaptersettlement.com. You have until March 21, 2012 or three years from the date of original purchase, whichever is later, to file your claim. Current and future replacements will be covered by Apple free of charge through December 31, 2012.
[via MacRumors]