Apple sets Q4 2011 earnings call for October 18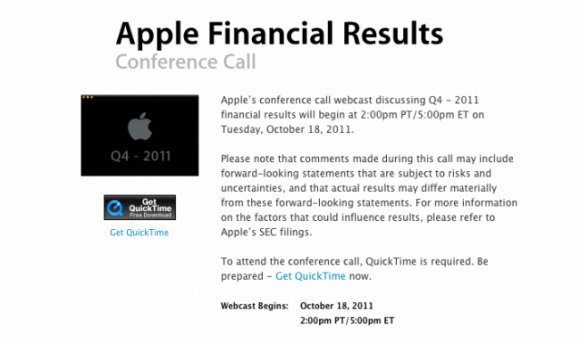 Apple has scheduled its Q4 2011 earnings call for October 18 at 2:00pm PST. Besides addressing the company's performance for the period ending on September 30, this time's conference call will also likely touch on the company's transition to new CEO Tim Cook as well as the initial performance of the iPhone 5, which will have presumably launched by then.
It was a tough year for many companies, but Apple performed incredibly well in Q3, which was hailed as its best quarter ever. The company is expected to do equally well in Q4, especially with the iPad supply issues ironed out, the refreshed MacBook Air, Mac Mini, OS X Lion, and back-to-school season. Hence, there's plenty of expectations for positive results.
This earnings call will also be the first time investors get to inquire about the transition to new CEO Tim Cook and how that is progressing. And given that the iPhone 5 is expected to launch sometime from October 4 to October 15, there could certainly be questions regarding initial sales figures, such as units sold on launch weekend.
[via Cult of Mac]