Apple sends iPhone parts to 3rd party repair shops at last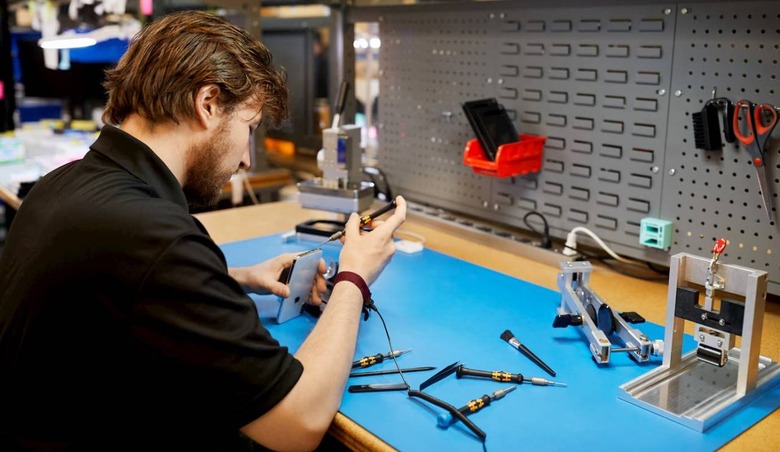 For years now, Apple has been at the center of of the right to repair debate. The company has often been accused of locking down devices and access to parts so that its stores (or authorized resellers) are the more consistent option for device repair. Today, Apple did something of an about-face on its repair policies, announcing that it will give independent repair shops access to official Apple tools, parts, and repair manuals.
It'll do so through a new program called the Independent Repair Provider Program. This new program won't cover all types of Apple device repairs, only "the most common out-of-warranty iPhone repairs." Though Apple doesn't get more specific about what that entails, the company's phrasing suggests that it'll cover things like display repairs and battery replacements.
One thing the Independent Repair Provider Program doesn't seem to cover at all are MacBook repairs, so if you're in need of one of those, you'll still likely need to go through Apple itself or an authorized reseller. Hopefully we'll one day see the Independent Repair Provider Program expand to cover all Apple devices instead of just iPhones, because consumers could definitely benefit from having more options when it comes to device repair.
In any case, Apple doesn't charge anything to apply to this program, but it does have a few rules for businesses looking for certification. In a page about the program on its support site, Apple says that companies interested in applying need to be established businesses with documentation that Apple can verify. They also need to be located in a commercially-zoned area, so repair companies that operate out of a residential address can't sign up.
Companies interested in participating in the program also must have Apple-certified technicians that can perform these repairs. Finally, all of Apple's repair tools, guides, and diagnostics need to be kept confidential. For more on the program or details on how to apply, check out that support page linked above.