Apple seeds iOS 5.0.1 early to select users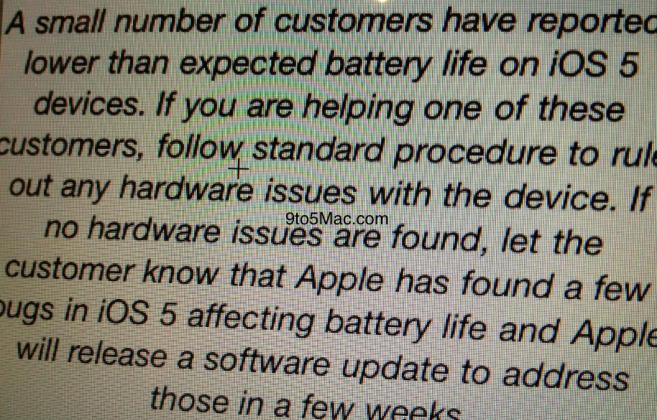 Apple is seeding the iOS 5.0.1 update early to select users through the AppleSeed program. Two beta versions of the update have already been released to developers and now the company is sending out an email to certain customers based on referrals from AppleCare, inviting them to participate in a pre-release update program.
It appears that these select customers are those who have complained about battery life issues in iOS 5 and the iPhone 4S. A long discussion thread has been growing since last month on Apple's support site regarding iPhone 4S battery draining issues with some customers being contacted directly to install a diagnostic tool to help Apple engineers determine the issue.
However, customers who participate in the early release program will not be able to downgrade to iOS 5 and must wait for the final release of iOS 5.0.1. Apple says that there's only a small number of users that have experienced the problem and that the final iOS 5.0.1 update should resolve the battery issue and bring new improvements to Siri, multitasking gestures to the first-gen iPad, and other bug fixes.
Apple has also sent out memos to Apple Stores, instructing Geniuses not to replace the iPhones with battery life issues, but to tell customers to wait a few weeks until the company releases a software fix.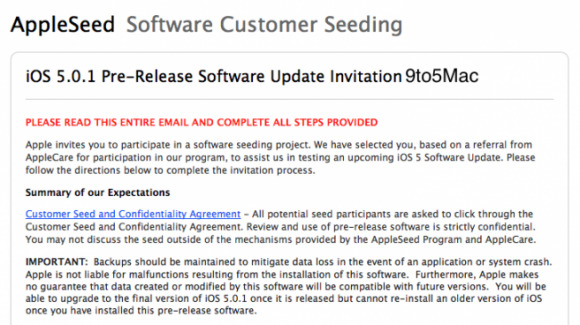 [via 9to5 Mac]