Apple has just made a public service announcement that informs its users in several countries in Europe and Asia that a certain make of its USB adapter for the iPhone poses risks as it is prone to overheating. The good news is that it is accepting responsibility for this QA failure and will replace faulty adapters at no cost.
Those who have bought the most recent iPhone 5s or 5c need not worry. The affected USB adapter was only shipped with the iPhone 3GS, iPhone 4, and iPhone 4S that were shipped starting October 2009 up to September 2012. However, some of these adapters were also sold standalone at authorized, and perhaps some unauthorized, outlets.
Not all countries where Apple sold these models are affected, and not all affected countries are actually European either. The full list is as follows: Albania, Austria, Belgium, Bulgaria, Croatia, Czech Republic, Denmark, Egypt, Finland, France, Germany, Greece, Hungary, India, Indonesia, Israel, Italy, Latvia, Lithuania, Luxembourg, Macedonia, Moldova, Montenegro, Netherlands, Norway, Poland, Portugal, Romania, Russia, Slovakia, Slovenia, South Africa, Spain, Sweden, Switzerland, Turkey, Vietnam.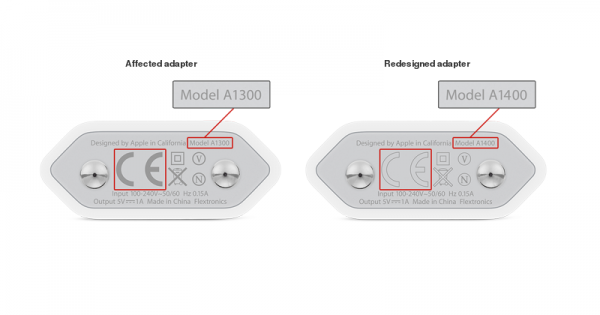 Detecting them is quite easy, however, as the image above makes a comparison between the faulty adapter as well as the replacement model. The affected adapter has a model number A1300 and the CE letters are painted in solid gray. The replacement, on the other hand, is an A1400 and the CE letters are only outlined.
Getting a replacement is equally easy. Simply march into one of the participating Apple retail stores or authorized service provider. Apple will be checking your iPhone's serial number so better bring it with you and make sure it's legit. After that you get your free replacement. Apple also assures its more environment-conscious customers that these erring adapters will be disposed of in an environment-friendly manner.