Apple removes iPod Classic click-wheel games from iTunes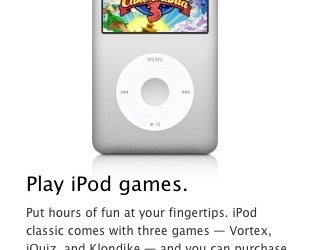 This is the 10th birthday for Apple's iconic mp3 player, the iPod Classic, and it will likely be its last. Following recent rumors that Apple will be discontinuing both the iPod Classic and the iPod Shuffle, it's been discovered today that Apple has removed the section in iTunes that was devoted to games made for the classic iPod's click-wheel.
Previously, users could access the games via a link in the iTunes App Store called "iPod Click Wheel Games." These games date back to Apple's very first iPod model and include titles like Brick, Vortex, iQuiz, and Texas Hold'Em, totaling about 50 titles that all rely on the touch-sensitive wheel of the classic iPod. However, the link to this category of games is no longer available from the iTunes App Store menu.
It's believed that Apple will be putting the iPod Classic to rest during its major "Let's Talk iPhone" event next Tuesday, October 4. Although there were hopes that Apple would update the iPod Classic with a larger 220GB Toshiba hard drive, it seems unlikely now that Apple is pushing its iCloud music streaming service for iOS 5. Make sure to follow our live blog of the event for all the details.
[via MacRumors]