Apple releases iOS 6.1.3 with lock screen fix, Evasi0n patch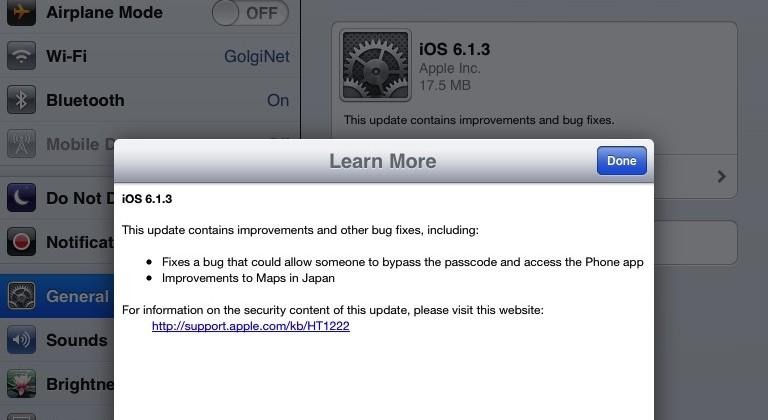 We've known that the update would be coming eventually, and it looks like today's the day. Apple has released iOS 6.1.3 to the masses, and it fixes that stubborn lock screen vulnerability, as well as comes with a ton of map improvements in Japan. The update has begun rolling out, and you should be seeing it soon on your iDevice.
The lock screen exploit was originally discovered last month, and it allows anyone to bypass the lock screen with a bit of clever swiping and tapping maneuvers. From there, prying eyes can look at your contact list and even your photo library, both of which could contain sensitive information. However, this latest update patches it right up.
The update also patches up some of the exploits used by the Evasi0n iOS 6 jailbreak, so if you plan on jailbreaking your iOS 6 device, may this be a warning not to update to iOS 6.1.3. However, if you're already jailbroken, then you probably don't have a lot to worry about, other than the fact you won't be able to update to the latest version.
Other than that, you have some other small bugfixes and improvements that come with the update, but the lock screen fix and the map improvements in Japan are the big two. However, the Evasi0n patch is also noteworthy for those interested in tapping into their iPhones and iPads, and the dev team behind the jailbreak doesn't have any plans to support iOS 6.1.3 anytime soon, sadly.