Apple releases iOS 6.1.2 update to fix Exchange bug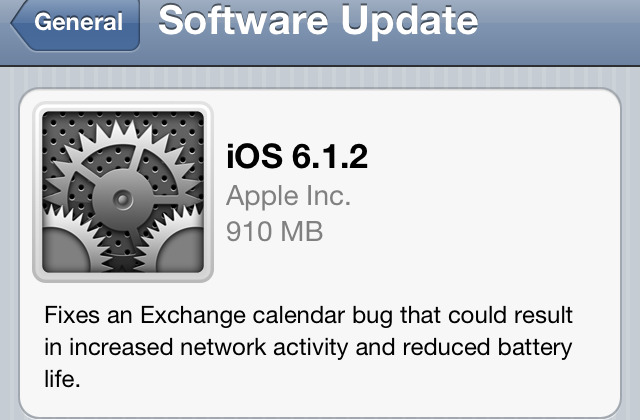 As expected from last week, an update for iOS has been released today that fixes that annoying Exchange calendar bug that's been plaguing a lot of users recently. iOS 6.1.2 should be rolling out now to all iOS 6.x devices, and the fix should also improve connectivity, as well as increase battery life.
It's not said whether or not this update fixes the lockscreen vulnerability that was discovered last week, but we're guessing that Apple may have quietly put in a fix for that as well without mentioning it in the release notes for obvious reasons. The total update size is just a small 12.8 MB (the image above says 910 MB, but that's simply because that specific device is still on iOS 5 and hasn't upgraded to iOS 6 yet).
The Microsoft Exchange bug had led to many users reporting decreased battery life, as well as problems with network connectivity, which led to high amounts data and power consumption without a reasonable explanation. However, Apple has ended up fixing the issue today, just a week or so after it was discovered.
The update is available now through the Settings > Software Update section on your iOS device or by plugging it into iTunes and updating through your computer. It's a targeted update, so it's nothing too major, but if you've been having problems with Microsoft Exchange lately, the update will no doubt be a big one for you.