Apple quad-core iMacs coming in January? New Intel chips rumored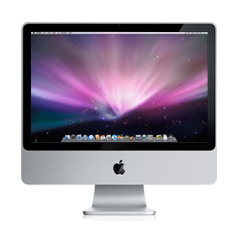 According to a Digitimes report, Intel is preparing to launch three 65W low-power desktop processors in mid-January 2009, that will find their way into updated Apple iMac computers.  The news comes from sources at PC vendors, who suggest that Intel will announce the Core 2 Quad Q8200s, Core 2 Quad Q9400s and Core 2 Quad Q9550s at the start of the new year.
The Core 2 Quad Q8200s will run at 2.33GHz and have 4MB of L2 cache, while the Core 2 Quad Q9400s ramps that up to 2.66GHz with 6MB of L2 cache.  Finally the Core 2 Quad Q9550s runs at 2.83GHz and has 12MB of L2 cache.  Aside from the lower TDP – down from 95W to 65W – the three processors will have the same specs as their model-number counterparts currently on sale.
The chips will be priced at $245, $320 and $369, respectively, in thousand-unit quantities.  Aside from Apple, the sources claim that Acer, HP and Dell are also planning products based on the new Intel chips, with ASUS considering doing so.