Apple prunes WikiLeaks app from App Store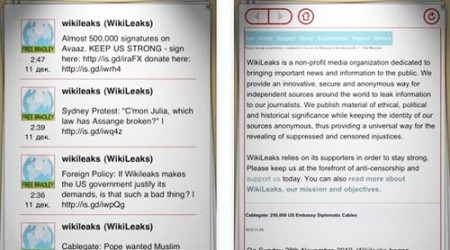 You would have to live under a rock, or even worse not have internet access to not know the saga of WikiLeaks that has been going on over the last few months. All of the leaked documents that the site published finally came back to bite the site and the man behind the curtain is facing some serious criminal charges.
Apple has now removed the WikiLeaks app from the App Store. The app wasn't official and was designed to let you follow the site via the WikiLeaks Twitter account. The app was pulled at some point early this morning apparently.
The app was very short lived with TechCrunch reporting that it had only gone live on December 17, which was last Friday. The app sold for $1.99 and was one of those apps that many were surprised to see approved at all considering the controversy around the site right now. I wonder if Apple will use the kill switch to pull the app from the devices of anyone who happened to buy.