Apple Posts New iPad Images And Specs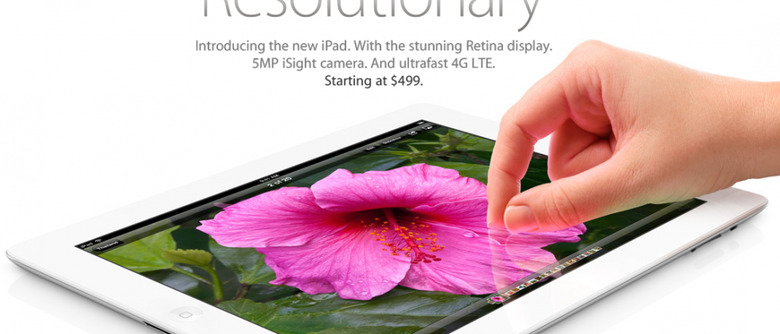 Apple has updated its website with the images and technical specs of the new iPad, formerly known as the iPad 3 or iPad HD. All speculation can be put to rest now following Apple's unveiling event this morning, which confirmed several rumors, including a Retina-like display and 4G LTE support. If you missed our live coverage, you can update yourself on the new iPad event announcements here or continue on to get recap of the specs.
Apple's website now features the new "resolutionary" iPad in all its rich visual glory. It sports a Retina display with 2048 x 1536 resolution at a pixel density of 264ppi, double that of the iPad 2. It runs on an upgraded A5X dual-core processor that features quad-core graphics for a vast performance boost without the battery drain. The rear-facing iSight camera now boasts a 5-megapixel resolution with support for 1080p HD video capture at 30fps.
The new iPad comes in two versions, the WiFi-only and the WiFi plus 4G LTE, the latter of which will run on both Verizon and AT&T at launch. Pricing for the WiFi-only version starts at $499 for the 16GB model, while the 4G LTE version starts at $629. The 16GB iPad 2 will remain on shelves alongside the new iPad and will get a price reduction to $399 for the WiFi-only model and $529 for the WiFi plus 3G model. You can check out the comparison here.
And certainly don't forget to check out our hands-on with the new iPad and let us know what you think in the comments.