Apple Podcasts on Amazon Alexa and Echo devices now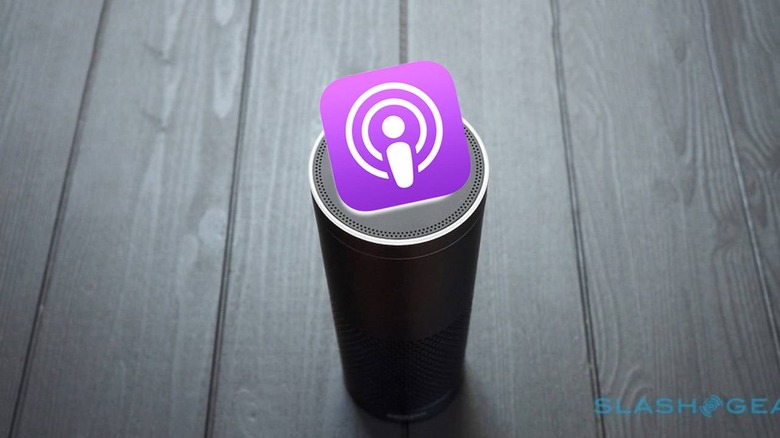 Starting today, the Apple Podcasts system is available Amazon's latest version of Alexa software on all Echo devices and other Alexa-enabled devices. This is not the only way one can listen to podcasts on an Echo device, but it is the first time that the Apple Podcasts ecosystem is available with Alexa. This system provides another pathway for Apple and Amazon users to share with one another.
We do not yet know the extent to which Apple and Amazon share data with one-another with this new collaboration of efforts. It's not unlikely that Amazon will learn your podcast preferences and tendencies when you listen to any podcasting system on Echo devices and/or with Alexa. If you're already listing to Apple Podcasts with the Apple Podcasts App, this collaboration won't likely provide Apple with any new information that you've not already been sharing in the past.
Users can set Apple Podcasts as their default podcast provider with Amazon Echo devices using the Alexa app. Users will need to open the Alexa app, find the Settings menu, tap Music & Podcasts, and tap link/manage new services. There you'll select Apple Podcasts as the preferred provider of podcasting content.
If you'd like to listen to a podcast on the Apple Podcasts App, then continue to listen on an Alexa device, you'll need to "link your account in the Alexa app using your Apple ID." Once linked, you'll be able to pause a podcast in the Apple Podcasts app, then command Alexa, "Alexa, resume playing [podcast name here]."
• Alexa, play [podcast name] on Apple Podcasts
• Alexa, play [podcast name] from yesterday on Apple Podcasts
• Alexa, resume playing [podcast name] on Apple Podcasts
• Alexa, next episode
• Alexa, fast forward 30 seconds
Above you'll see a few other commands that'll be available using Alexa once connected to the Apple Podcasts system. These commands should be activated this week on all Alexa-enabled devices.