Apple pen-input tablet patent app fuels rumors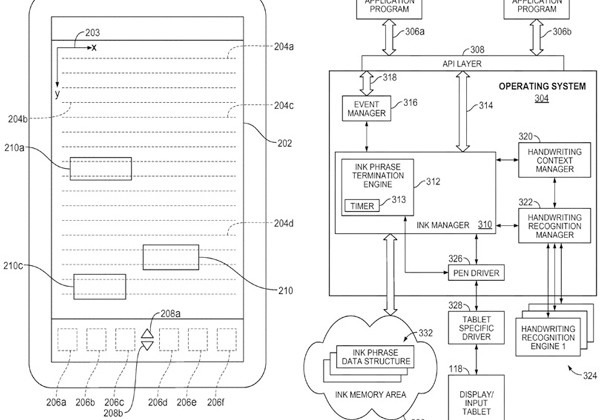 Apple's ongoing tablet plans may be shrouded in mystery, but we keep getting snippets of potential from various patent applications from the company.  Latest to be unearthed documents digital ink recognition using a pen-aware system, which tracks full handwritten phrases rather than merely individual strokes.  Apple call it an "ink phrase" engine and it seems to be a sign that the company don't expect onscreen keyboards and multitouch to serve all of our mobile input scenarios.
Apple's concept is that it's easier to recognize accurate phrases when you look at the collective word, sentence or paragraph, rather than just the makeup of a letter.  That way, any ink strokes that can't be conclusively recognized can be better predicted by putting them into context with the strokes around them.  In the other direction, it would be possible for the system to pre-recognized words midway through their input.
The application was filed in July 2009, and of course is not necessarily indicative of a planned product.  After all, Apple have had handwriting recognition technology – in the shape of Inkwell – in OS X for years now, and are yet to make any practical use of it.
[via Engadget]