Apple Pay begins rolling out at Trader Joe's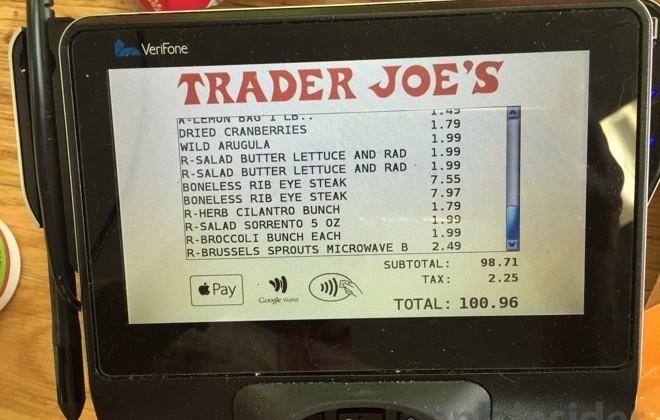 As Apple Pay continues to become accepted at more and more retailers across the U.S., popular grocery store chain Trader Joe's is one of the latest, with Apple's payment method beginning to appear at a number of locations. With over 400 locations, Trader Joe's is starting to add touchscreen payment terminals from VeriFone at its checkout registers. Trader Joe's is not yet listed as an official Apple Pay partner on Apple's website, yet it seems they are in the process of becoming one, as a number of locations have said that while they don't yet support the payment method, they will sometime soon.
The payment terminals appearing at certain locations bring support for several contactless payment systems, including Google Wallet and other NFC options. The Apple Pay logo is included on the lower left of the terminal's screen, however, while the terminals are appearing at Trader Joe's stores, not all of those locations are accepting Apple Pay.
A number of customers visiting Trader Joe's across the country, including California and North Carolina, have found that Apple Pay was being accepted and were successfully able to complete transactions with their iPhone and Apple Watch. A store in Brooklyn, New York was not yet accepting Apple Pay, but employees said support is coming, but at an unknown date.
If and when Trader Joe's becomes an official Apple Pay partner, it will be joining a total of over 70 merchants in the U.S. Among the other grocery outlets around the country that already accept Apple's payment system include While Foods, Bi-Lo, Winn-Dixie, Meijer, and Food Maxx.
SOURCE Apple Insider