Apple patent shows methods for iPhone to save fingerprint information, upload to the cloud, and download on another iPhone. Filed in August of 2015, this patent appears to have been a "continuation in part" of a patent application from July of 2013, a patent which has now been "abandoned" in favor of this new listing. This new patent application suggests that Apple devices with fingerprint sensors would first collect fingerprint information, as they do today, but that they would also be capable of uploading that information to the cloud for storage.
Apple's patent for "Finger Biometric Sensor Data Synchronization VIA A Cloud Computing Device And Related Methods" was published by the USPTO on December 17th, 2015, and includes the drawings you see below. Fingerprint information is collected, stored on the device it was collected on and uploaded to the cloud, and able to be downloaded and used by a second device.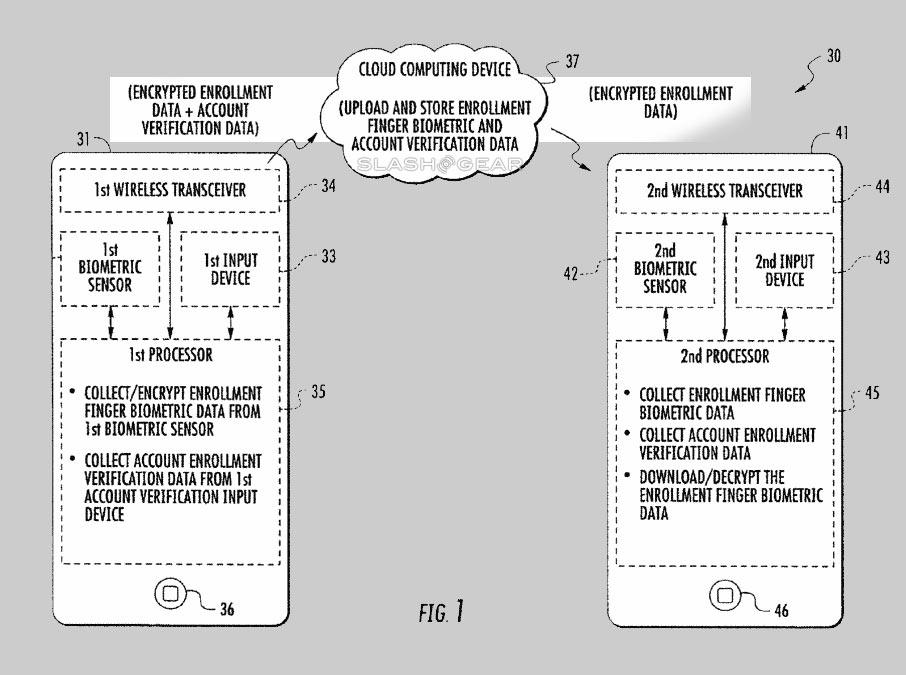 Storing fingerprint information in the cloud goes against what Apple's own security policy suggested back in September of 2013. In an article by the name of "iPhone 5s Touch ID prompts US Senator security concerns" we discussed this at length:
"According to Apple's own security policy, an image of the fingerprint itself is never actually retained. Instead, Touch ID calculates a "mathematical representation" of the key shapes of the fingerprint, which is than only ever kept locally on the iPhone 5s itself, not backed up to the cloud."
Apple's security policy says the following, specifically:
"The Secure Enclave is walled off from the rest of the chip and the rest of iOS. Therefore, iOS and other apps never access your fingerprint data, it's never stored on Apple servers, and it's never backed up to iCloud or anywhere else." – Apple (last modified November 2nd, 2015, retrieved on December 29th, 2015
It's important to note that while this patent application includes mention of the words "fingerprint or an image thereof" and the word "image" four times, the word "image" does not appear anywhere else throughout the patent application description. Apple's claim that they're not actually storing images, but biometric data, still stands.
In one part of this new patent application description, Apple suggests that "In one example embodiment, the cloud computing device (37) may be part of the iCloud system from the present Assignee Apple Inc., although other cloud computing devices and systems may also be used."
It's suggested that in order to have this information uploaded for later use on other devices, users would need to sign in using their Apple ID. Apple suggests that "in some implementations, the first processor may encrypt the enrollment data and/or account data using an encryption algorithm prior to uploading, if desired, as will be appreciated by those skilled in the art."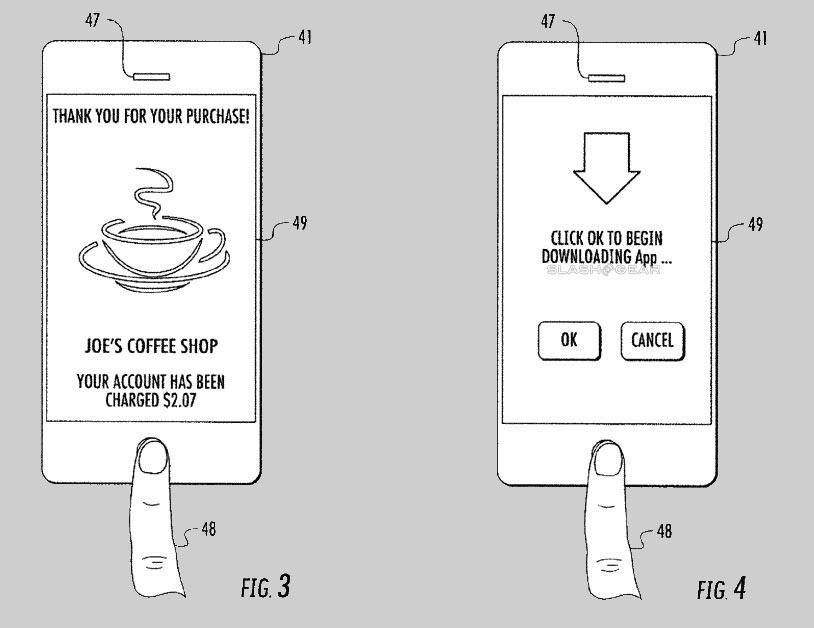 Above you'll see a couple of instances in which fingerprint matching has taken place – device functions are performed: paying for coffee with Apple Pay, for example, and downloading apps.
Below you'll see a timeline of recent stories regarding Apple's fingerprint system Touch ID.