Apple patents 3D display with holographic images and Kinect-like gesturing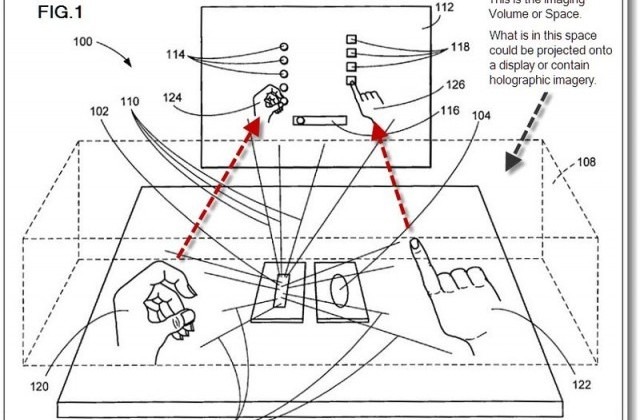 Apple has just been granted 13 new patents today by the USPTO, with one of them involving an advanced 3D display and imaging system. This particular patent involves holographic images and Kinect-like gesturing in a 3D space that makes the recent iPhone 5 concept with the holographic keyboard seem not too far off.
Dug up and analyzed by Patently Apple, the patented system generates an invisible 3D space in front of the user and allows them to work with holographic images. It can also project the user's hands onto a screen where they can manipulate virtual objects. This functionality will be great in 3D gaming, much like with the Kinect, but could also be useful for business or medical use.
Under this patent, the virtual items in this 3D space can include nearly any object that can be grasped and manipulated within the virtual space, including sheets of paper, hand tools, paint brushes, pencils, pens, knives, scissors, etc. Any manipulation of these virtual objects or controls can also be further reinforced with audio feedback, such as clicking sounds for virtually rotating knobs, flicking switches, or pressing buttons.
The 3D display and imaging system could find its way to future Apple TVs or be implemented in future mobile devices. Below is an image of that holographic keyboard concept for the upcoming iPhone 5.