Apple Patent App Reveals Integrated Projectors For Future iPhones, iPads, And More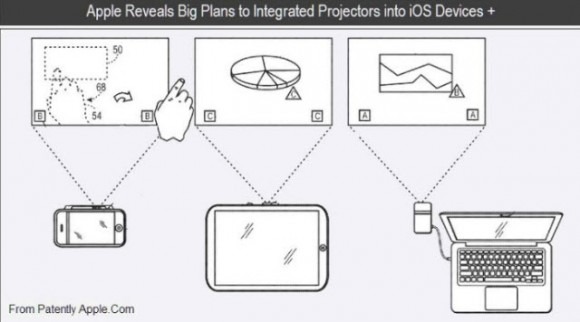 A new Apple patent application that surfaced today reveals that the company is getting serious with its plans to integrate pico projectors into their future devices. The documents show that the tiny projectors would be implemented in next-gen iPhones, iPads, and iPod touch devices as well as in what looks to be an accessory for Apple's laptops.
The patent application was dug up by Patently Apple, who reports that Apple has been working on incorporating projection technology into their devices for quite some time now. Apple hinted at an integrated projector system for iOS devices as far back as 2009 and in 2010 filed a patent application for networked projection systems. Then later on in 2010, Apple began working on integrating a projector into a MacBook.
However, today's patent filing is much more detailed and even includes how the company plans to introduce advanced gesturing so that the system can interpret shadow and silhouette gesturing to carry out certain commands. It also reveals a unified display mode where two separate iOS devices can work together to project a much larger continuous screen and images between the screens can be shared. The amount of details suggest that Apple has worked long at this and is now really pushing forward with this integrated projection system, which could also help boost its adoption in enterprise use.
[via Patently Apple]