Apple Now Third Largest PC Vendor In US Market

Apple's personal computer business has been growing strong according to a recent report from research firms Gartner and IDC. So strong, in fact, that Apple has now risen to become the third largest vendor in the U.S. PC market just behind HP and Dell. Furthermore in comparison between the second quarters of 2010 and 2011, Apple has seen the highest positive growth.
According to the Gartner report, Apple soared from fifth place up to third, skipping ahead of Toshiba and Acer with an 8.5% growth in market share between Q2 of 2011 and the same quarter of the previous year. Toshiba's PC market share grew by 3.3% while Acer saw a huge drop of 22.6% market share, the largest decrease among the top five companies reported.
HP and Dell remain in first and second place, respectively, but have both seen a decline in market share with HP losing 1.2% and Dell losing a larger 9.8%. Overall year-over-year, the US industry trend for the PC market saw a 5.6% decline.
IDC reported a similar outlook but with Apple having a much higher year-over-year growth at 14.7% with Toshiba having 3.7%. They also found that Acer's market share plunged by over 25% while the overall industry trend declined year-over-year by 4.2%.
It should be noted that neither report covered Apple's worldwide performance where the company still does not rank as one of the top five largest vendors. However, the worldwide market only had a 2.5% year-over-year meaning Apple is still making huge strides against others in the industry.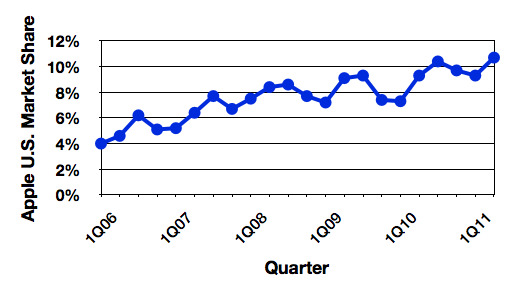 [via MacRumors]