Apple now selling wall-mountable iMacs for $40 extra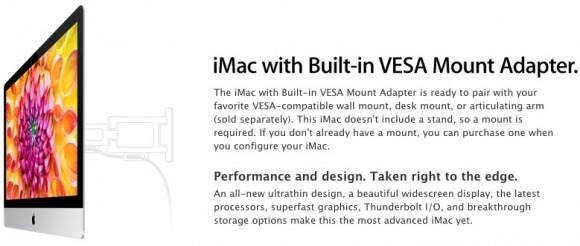 One problem with the new iMacs was that there was no easy way to mount the all-in-one to the wall, since they didn't support a standard VESA mount. A lot of users like to save desk space and stick their displays to the wall, but there was really no easy way to go about that with the new iMac, unless you could do a bit of clever hacking. However, Apple has released an option specifically for that niche and is now offering iMacs with a built-in VESA wall mount adapter.
The new iMacs with the built-in VESA adapter will cost $40 more than a regular iMac, and they don't come with the stand, but you have the option to select a desk mount during checkout if you want starting at $140. The wall-mountable iMacs don't actually come with a wall mount, so you'll have to go out and buy your own on top of the $40 premium for the adapter that Apple slaps on.
Apple seems to have quietly rolled these new models out, and they're not actively promoting them either, but a link at the bottom of the iMac configuration page will take you to the main page where the wall-mountable iMacs are advertised, where you can then select one to purchase starting at $1,339 for the 21.5-inch model.
However, the new wall-mountable iMac options show a ship date of 7-10 business days, while standard iMacs ship within 24 hours, so if you need an iMac fast, it may be best to get the standard one, but if you're absolutely dying to have a wall-mountable option, be prepared to wait a couple of weeks.
[via AppleInsider]