Apple now offering refurbished Apple Watch Series 1 and Series 2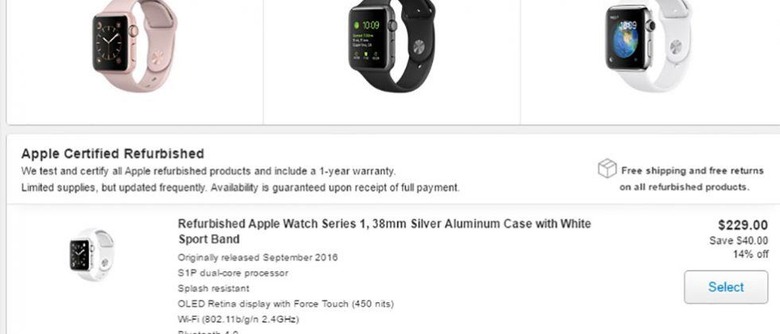 If you have had your eye on a new Apple Watch, but you just can't bring yourself to pull the trigger and plunk out the big bucks the smartwatch costs, you might like the new offerings from Apple. You can now purchase refurbished Apple Watches directly from the Apple Store and right now there are several versions to choose from and they are offered at modest discounts. That modest discount for buying refurb is 14%.
The Apple Watch Series 1 38mm with a silver aluminum refurb with white band sells for $229. That watch was launched in September 2016 and has a S1P dual-core processor, OLED retina display, Bluetooth, heart rate sensor, and more. The Series 1 can also be had in 38mm black case for the same $229. Other Series 1 devices offered in the refurb store include the 38mm gold aluminum case with concrete sport band, and 38mm rose gold with pink sand band.
If you want the larger Apple Watch series 1 you can get a 42mm rose gold with midnight blue band for $249. Apple Watch 42mm buyers can also get space gray with black sport band, gold with cocoa sport band, or silver with white band all in Series 1 configuration.
If you want the fancier Series 2 version you can get that too, but it costs a lot more. A 38mm Series 2 that originally launched in September 2016 with S2 dual-core processor, GPS, 50m water resistance, OLED retina display, WiFi, Bluetooth and more will cost you $469. A 42mm Series 2 in space black with black sport band sells for $509. A white 42mm Series 2 with white sport band is also available for the same $509. There is no indication of exactly how many of each configuration Apple has available.
SOURCE: Apple