Apple NFC iPhone Patent Tips Wireless Transaction Tech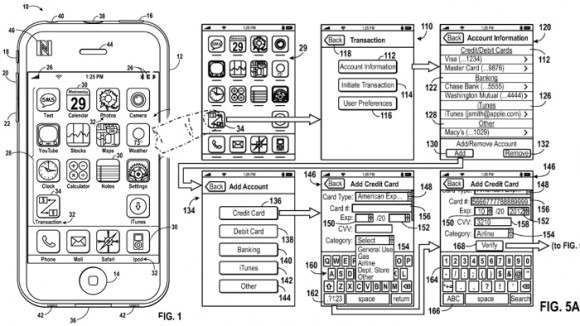 Apple's event later on today – that SlashGear will be liveblogging at http://live.slashgear.com/ – is expected to bring talk of multitasking and ads, but probably not wireless payment methods; still, we've got a recently published Apple patent to help us out with that.  Patent WO/2010/039337 details an NFC-enabled (Near Field Communications) mobile device, like an iPhone, that together with a new Transactions app could be used to send money between handsets.
According to the Transactions app details in the patent documentation, the user would register a credit or debit card, bank account or iTunes account with the software.  That would then – just like buying a track on iTunes or software from the App Store – allow them to tap in how much money they wanted to give to a friend (or, indeed, a retailer) and have it billed directly to their account.
As for the NFC, that would mean you could merely bump two iPhones together to enable the transaction, rather than having to enter in credentials like a username, email address or bank account details.  Of course, you'd have to have iPhones with NFC integrated into them, but with a hardware refresh expected this year then it's entirely possible Apple could address that in short order.
[via IntoMobile]