Apple Music, iTunes Movies, iBooks launch in China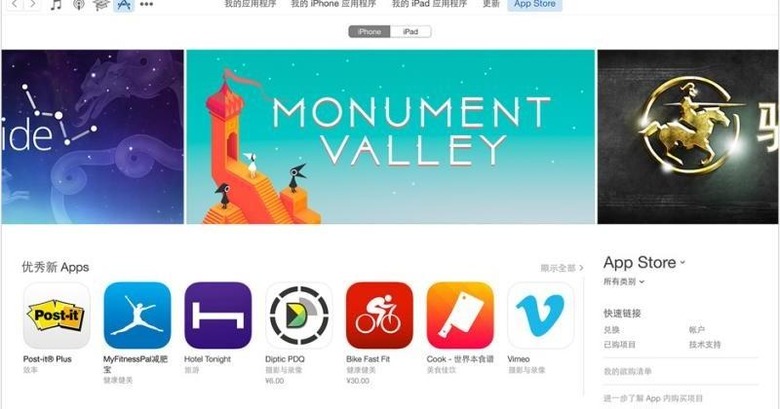 Continuing its quest to conquer the Chinese market, Apple has announced the arrival of some of its entertainment apps and services to the country. For the first time ever, Chinese users will be able to enjoy Apple's entertainment ecosystem, or at least a part of it, through Apple Music, iTunes Movies, and iBooks. This opens up China's doors to a wealth of new content to devour and gives Apple a new market to chew on that is marked to be a billion strong.
Apple Music, which leaves its free trial period in the US on 30th September, will allow Chinese users to enjoy their favorite tunes both from local artists like Eason Chan, Li Ronghao, JJ Lin and G.E.M. as well as international stars like Taylor Swift and Ed Sheeran. Whether through streaming or downloaded for offline playback, Apple users will be able to take their music anywhere on any device, including Android coming this fall. Apple Music also features Connect, which lets fans and artists communicate directly with each other. Interestingly, there is no mention of whether the Beats One Internet radio service will be available. Considering China's tight censorship, that might not be surprising as there can be little control over what gets streamed live to users in this scenario.
Apple is also bringing a treat for the eyes with iTunes Movies. Users can rent or buy their favorite titles, ranging from global hits like The Avengers: Age of Ultron and Jurassic World, to popular flicks from local studios such as Bona, Huayi Brothers and 1905. Also available is iTunes Extras, with offer special features, like behind the scenes coverage of some movies.
Finally, iBooks will offer both paid and free ebooks from a wide selection of titles both from local and foreign authors, like "Big Head Son & Little Head Dad" by Zheng Chunhua, "The Family Belongings of Chinese People" by Ma Hongjie. This launch also marks the first time that the popular Young Adult supernatural series "Twilight" will be available in China in digital format.
Apple Music will open its doors September 30, where subscribers can try out the service for free for three months. Afterwards, they will be charged 10 RMB ($1.6) a month or 15 RMB ($2.4) for a family subscription that allows for six family members. Prices on iBooks start at 0.5 RMB. For iTunes Movies, rentals start at 5 RMB while purchases start at 18 RMB. For a limited time only, the recent film "The Taking of Tiger Mountain" will be available for free to Chinese customers.