Apple Music Festival announced for London starting September 19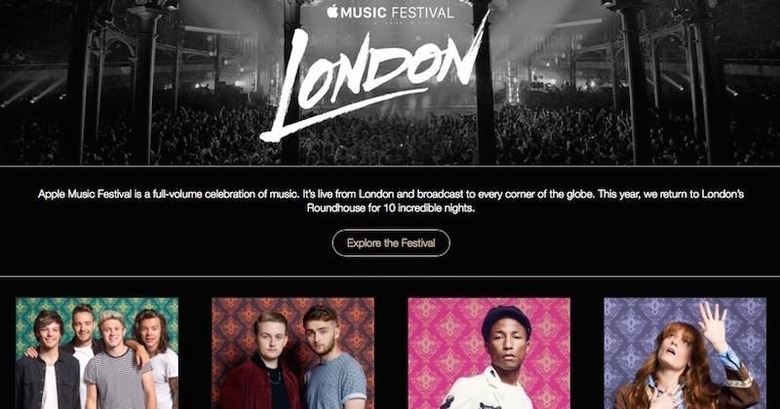 Apple has just announced that it's rebranding its annual September iTunes Festival as the Apple Music Festival. The event will be held in London from September 19th to September 28th, making the festival significantly shorter than the typical 30 days of concerts its been in the past. However, new this year is the fact that the event will be streamed on Apple Music, in addition to coverage on Beats 1 Radio and performing artists' pages on Apple Music Connect.
Only four headlining artists have been announced so far, along with their performing dates: One Direction (September 22nd), Disclosure (September 25th), Pharrell Williams (September 26th), and Florence and the Machine (September 28th). Along with another six headliners for the remaining dates, it's expected there will be a number of supporting artists for each night of the festival. Concerts will be held at the London Roundhouse venue.
In order to attend any of the shows at the Apple Music Festival, UK residents will still need to win tickets as they have in the past, likely through promotions on Apple Music and from other media partners. This will likely increase the importance of live streaming the festival, as there will be fewer shows for fans to attend. Appel exec Eddy Cue has also promised that artists will be "appearing live and interacting directly with their fans on Connect and Beats 1."
Among the content said to be available exclusively on Apple Music are early announcements of artist lineups, and behind-the-scenes photos and video from through the festival. Users will be able to stream performances live from Apple Music or iTunes on their iPhone, iPad, iPod touch, Mac, and PC, while Apple TV will be getting high-definition replays of artists' sets.
SOURCE Apple