Apple Maps beats Google Maps... on iPhones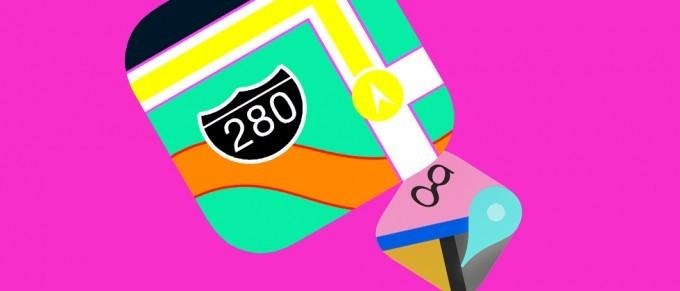 This week it's been suggested by Apple that Apple Maps has overtaken Google Maps on iOS devices by a large margin. Apple suggests with the Associated Press that its mapping service is "now used more than three times as often as its next leading competitor on iPhone and iPads, with more than 5 billion map-related requests each week." What does an iPhone user do when they need a map? They tap the app called Maps.
According to comScore, "apps with easy access and visibility on the home screen unsurprisingly attract more visitors than apps that rarely obtain home screen real estate." When you've got an app pre-installed on a smartphone, you're more likely to use it than, say, one you'd need to go to the app store to download.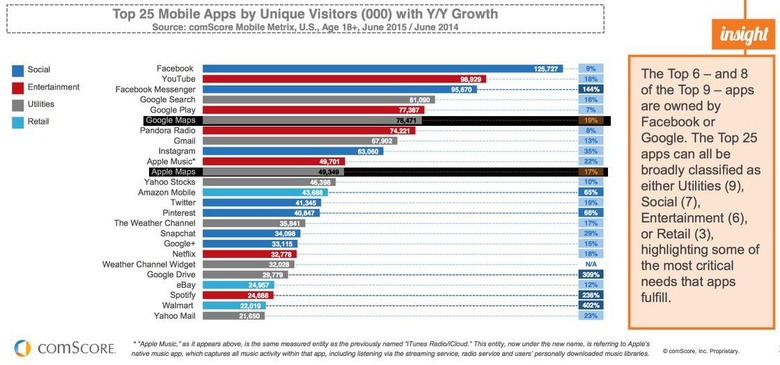 "Of course," added comScore, "apps that are most often selected for the home screen tend to generally be more popular, creating a chicken-and-egg phenomenon."
That's true of apps you need to download, while apps like Facebook, Instagram, YouTube, Google Maps, and Apple Maps come pre-installed on a number of devices.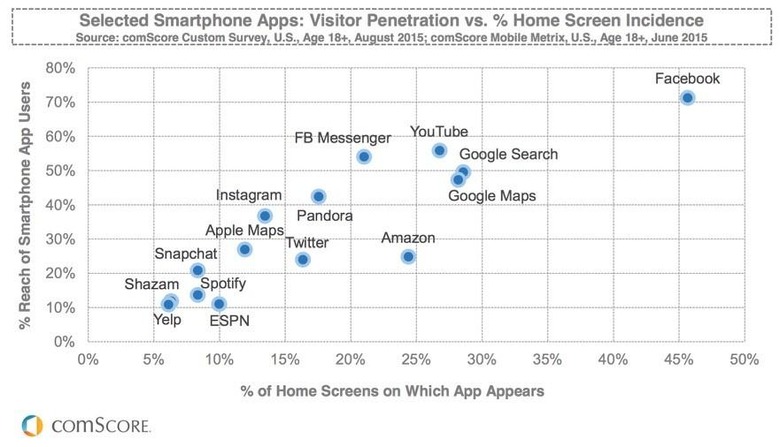 The chart above shows a comparison of home screens on which an app appears VS reach of smartphone app users. This is part of comScore's 2015 US Mobile App Report, so we're talking the bulk of the year we're nearly at the end of now.
On iPhones and iPads you'll find Apple Maps, but no Google maps. Facebook and YouTube pretty much come standard for all devices at this point in history.