Apple MacBook Pro Refreshed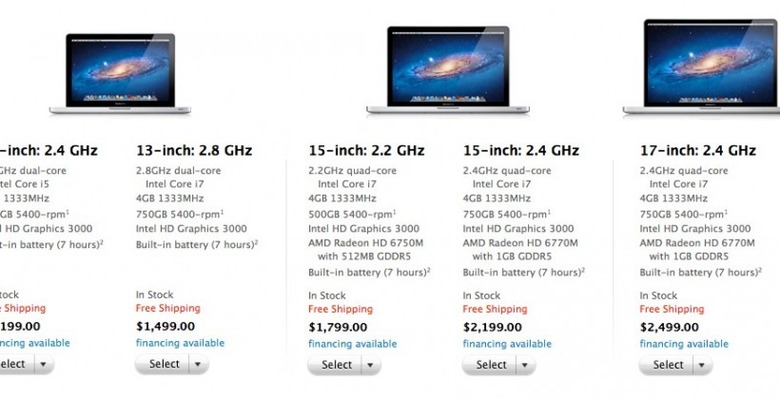 Apple has quietly upgraded its MacBook Pro range, with a speed, storage and graphics boost that sees the entry-level $1,199 13-inch MBP running at 2.4GHz and packing a 500GB hard-drive as standard. The refresh – which had been initially tipped for early November - sees new Intel Sandy Bridge chips added to the MacBook Pro line-up, though memory and many other specs stay the same.
The 13-inch MacBook Pro now has a dual-core Core i5 2.4GHz chip as standard and a 500GB 5,400rpm hard-drive. $1,499 gets you an upgrade to a 2.8GHz dual-core Core i7 processor and 750GB 5,400rpm hard-drive. Both use Intel HD 3000 graphics and have 4GB of 1333MHz RAM.
As for the 15-inch models, the entry-level starts at $1,799 with a 2.2GHz quad-core Core i7 processor, and the $2,199 version has a 2.4GHz quad-core Core i7. Both have 4GB of 1333MHz RAM, 500GB and 750GB hard-drives respectively, while the more expensive model gets AMD Radeon HD 6770M graphics with 1GB of video memory. Lastly, the 17-inch MacBook Pro kicks off at $2,499 with a quad-core 2.4GHz Core i7 processor and HD 6770M 1GB graphics, along with 4GB of RAM and 750GB hard-drive.
Both the 15-incher and the 17-incher can be specified with a 2.5GHz quad-core Core i7, while other options include the same 512GB SSD storage. Each new model is listed as in-stock and ships free.