Apple MacBook Pro 17-inch Review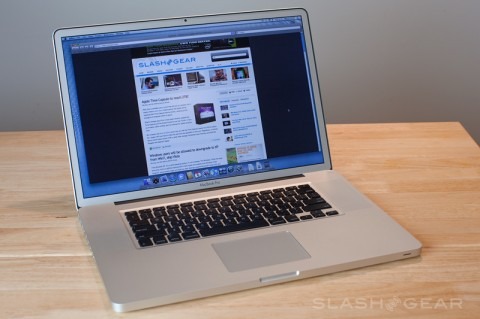 The 17-inch MacBook Pro was the last of the Apple notebook range to get a unibody update, but for those looking for superlative media editing and general processing grunt it more than delivers.  Apple shipped over the new MacBook Pro just after it launched, and we've been spending the last few weeks getting to grips with the new notebook and putting it through its paces.  After the cut, anti-glare screens, NVIDIA's GeForce 9600M and portability from the thinnest, lightest 17-incher around.
For this particular MacBook Pro review unit we opted for the anti-glare LCD display.  According to Apple the anti-glare treatment process is almost exactly the same as the standard glossy screen: the coating is applied instead of the final, high-gloss glass panel.  Our experience suggests that it completely eliminates glare, and is well worth the $50 upgrade cost.
The quality of the display is already making us wonder how we'll live without it once Apple demand the review unit back.  It's the only MacBook around on which you can natively edit 1080p high-definition video, and our tests show that the processor and graphics readily keep up their side of the bargain.  The basic model comes with a 2.66Ghz Intel Core 2 Duo CPU (2.93GHz is a $300 option), 4GB of DDR3 RAM (8GB is $1,000), a 320GB 5,400rpm hard-drive (7,200rpm or up to 256GB SSDs are options) and an 8x SuperDrive DVD burner, plus switchable NVIDIA graphics.
It's also one of the most attractive large-screen notebooks we've come across.  In the metal, the unibody chassis and broad widescreen display are gorgeous, and it manages to rank as the lightest and thinnest 17-inch notebook around.  "Light" is a relative term, obviously; at 6.68lbs we've happily taken it to press events like CTIA, where the Pro crunched through 12+ videos a day on-site without coming up for air, but running around town the 13-inch MacBook (at two-thirds the weight) is more likely to find its way into our bag.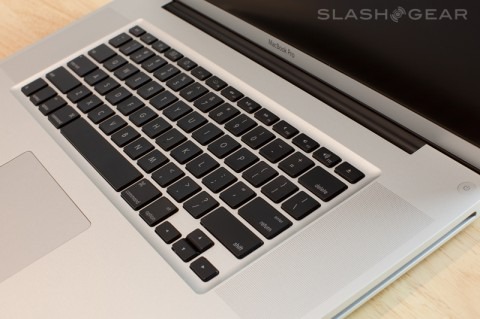 The keyboard, trackpad and overall design are the same as the 15-inch MacBook Pro, which means backlit keys, multitouch and gesture support, and sleek unibody design respectively.  We'd point you back at our review of the 15-incher for full details.  Where the 17-inch version differs most significantly is in the screen, the processor/graphics grunt, and the battery, and that's what we'll be concentrating on here.
Based on our experience with this anti-glare display, we wish Apple would backtrack and offer it as an option on the rest of the MacBook Pro range.  It really does make a huge difference in terms of usability.  Where we might start splitting hairs is in viewing angles; 140/120 degree angles are standard for most notebook displays, but the HP DreamColor 8730w notebook – also a graphics powerhouse – manages 160/120 degrees and the 17-inch panel on the Pro makes the difference more noticeable than on the smaller machines in the range.
As for power, we loaded up Photoshop CS4 and tested the 17-inch Pro against its 15-inch counterpart (2.4GHz, 4GB RAM, 320GB 5,400rpm HDD); in a Retouch Artist speed test the larger notebook finished in 38.9s while the smaller took 53.9s.  The Intel Core 2 Duo 2.94GHz T9800 plus 8GB of RAM of our review unit is obviously faster than anything the 15-inch MacBook Pro could manage. 
We also pit the 17-inch Pro against a Windows heavyweight, the HP HDX 18.  Another desktop replacement (this time with an 18-inch display and roughly 9lb weight), the HDX 18 has an Intel Core 2 Duo P8400 processor running at 2.27GHz, with 4GB of RAM .  In Geekbench 64-bit the HP scored 3297 overall, compared to the Apple machines' overall score of 4401; in fact, it lapsed behind in all categories bar memory bandwidth performance (the HP scored 2152, the Apple 1822), with the MacBook Pro notching up almost double the processor floating point performance (6293 versus 3362).
It's worth noting that, when in the midst of heavy image and video processing, the Pro gets noticeably hot (though never to the point of system instability); the rest of the time it feels no different to the 15-inch version.  Overall, this is a dual-core notebook that really lives up to its "desktop replacement" billing.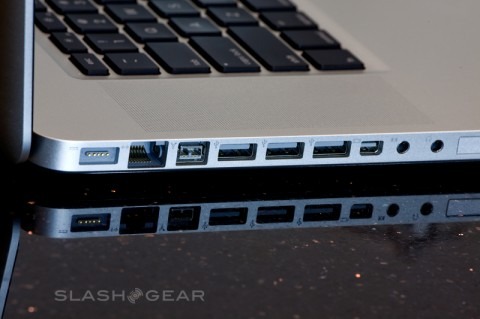 As for battery life, let's just say we were dubious about Apple's runtime claims when the 17-inch MacBook Pro was announced.  Battery life is quoted at up to 8hrs with wireless switched on and performing basic tasks with a custom Apple script (50-percent brightness, WiFi web browsing, text editing).  Then expect that figure to halve if you're watching a DVD at 50-percent brightness.  Switching from the low-power GPU to the higher-performance 9600M GT (which requires you to log out and then back in again, closing whatever apps are running) will cut total time down to 7hrs, go the claims.
In our own tests, using the GeForce 9400M GPU and performing basic tasks like browsing over WiFi, watching video and tinkering with photos netted us close to 4 hours 45 minutes of runtime.  Switching to the 9600M and going about the same tasks saw that cut down to around 4 hours.  The latter result is a little misleading, however; if you're really making the most of the higher-performance GeForce GPU – i.e. some serious video editing and processing – you should expect to see that figure hammered down.  Nonetheless, given the specifications and the MacBook Pro's capabilities, these are impressive runtime figures, even if they fall well short of what you might be led to believe from Apple's marketing hyperbole.
Apple are particularly proud of their eco-credentials with the unibody MacBook Pro; the battery is supposedly good for 1,000 full recharge cycles – equivalent to five years of service – and it requires just 95W to run.  Since it's non-user-replaceable that 1,000 cycles figure will be an important one: taking it in to your local Apple store for a switch out will cost $179.  We missed being able to slot in a second pack for on-the-go use while at CTIA, as we were able to with our 15-inch MacBook Pro, but the overall runtime and reduction in size were perhaps more welcome when facing a day full of carrying the laptop.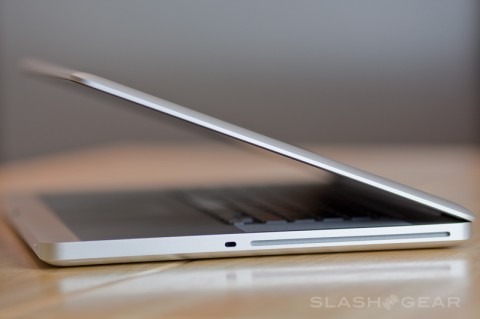 For day to day use, even though the 17-inch MacBook Pro may be the lightest and thinnest laptop in its segment, it's still tough to sport around tradeshows and between coffee shops.  It's definitely a desktop replacement, more suited to occasional travel to visit clients, or make short trips.  Those who travel frequently would be better served by 15-inch model, unless they really do need to perform heavy-duty HD video editing on the move.
If you are just such a user, though, and you're hungry for the extra screen size (and the non-glare option), the 17-inch MacBook Pro is unlikely to disappoint.  Time will tell whether Apple's battery predictions pan out, and – starting from $2,799 and, when maxed out with a 256GB SSD, hitting $4,899 – the price certainly won't be confused for a budget option, but it's an incredible workstation with the power to back up its promises.  We're just hoping Apple hear the positive feedback and roll the non-glare display coating option down to the smaller models in the range.