Apple Macbook event today; SlashGear is live blogging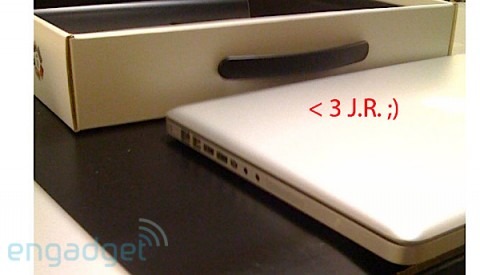 The rumors have been rampaging and now we're only hours away from Apple's "The spotlight turns of notebooks" event that is said to focus on their laptop line. But you won't have to wait for the news. SlashGear will be there live blogging the whole thing.
We've heard all sorts of rumors about the upcoming Macbook refresh. Everything from the trackpad being a glass surface like the iPhone to a full on touch tablet. But now we seem to have our fingers on a few probable certainties. We are likely to see a Macbook Pro refresh, with a combination of "metal and glass" made with a new manufacturing process that involves cutting the casing from a solid aluminum brick.
We also saw several leaked photos this past week of what is believed to be the new Macbooks. As late as last night we saw a photo that showed off a Macbook Pro from none other than J.R., the same guy that leaked out those iPod nano photos right before its release. In this leak, there are a few new things to note: a black bezel, super glossy screen, lack of a clickable trackpad button, Macbook Air-style keyboard and thinner casing.
Engadget is also reporting that there are two NVIDIA GPUs in this notebook. Supposedly, a $899 product has also popped up in Apple's retail systems. However, Apple Insider is saying this may be an LCD display. Could this be the dockable display we've been hearing hints about?
Okay, enough of the speculation. What matters is that at 10 a.m. PST, this Apple event will go down in Cupertino and we'll be there Live Blogging the whole thing. Be sure to surf to http://live.slashgear.com to get the latest news, as it happens!