Apple Just Bought The Tech To Flatten The iPhone's Camera Bump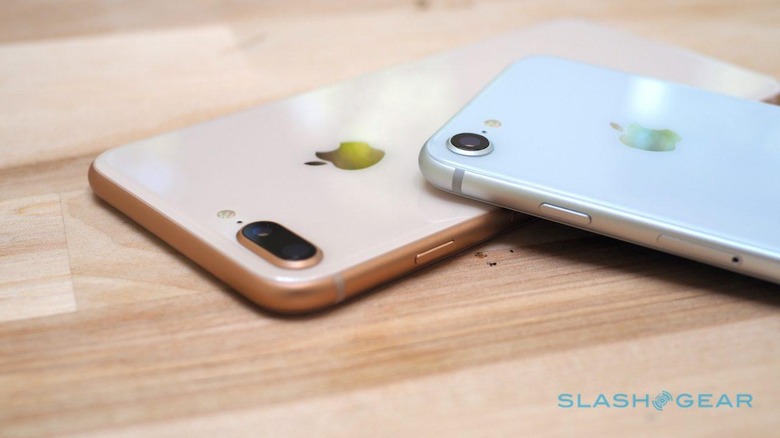 As the competition to provide the best smartphone camera gets even more heated, Apple has made a key acquisition that could give it an edge in the battle. We're learning today that Apple has acquired a company named InVisage Technologies. While that name may not be instantly familiar, the technology InVisage has been developed could not only give iPhone and iPad cameras a big boost in quality, but it could also get rid of those unsightly camera bumps we've been dealing with ever since the launch of the iPhone 6.
Those camera bumps exist, essentially, because the phone has become too thin to hold the entire lens and sensor. InVisage's key product, QuantumFilm, could help with that. As explained on InVisage's website, QuantumFilm is meant to replace the photosensitive silicon layer found in conventional camera sensors. Since QuantumFilm is made up of nanoparticles that allow smartphone cameras to capture more light and reproduce colors more accurately, it helps produce better low-light shots.
The benefits to low-light photography are only one part of the equation, though. InVisage says that QuantumFilm is 10 times thinner than conventional silicon, which potentially means a smaller camera. This, by extension, would mean that Apple can use similar components to make the overall footprint of the camera smaller, or use better, somewhat larger components while keeping the footprint similar to its current size.
Of course, Apple isn't going to spill any details on what it plans to do now that it has InVisage in its portfolio. Though it confirmed to TechCrunch that it did indeed purchase InVisage, it gave its typical response about how it doesn't discuss purpose or plans. Apple probably won't ever say directly what it's doing with the technology from InVisage, but we can certainly take a few guesses.
It wouldn't be too shocking to see make Apple an attempt at making its own camera sensor for future iPhones and iPads. As is the case for most smart phones out there, iPhones typically rely on Sony image sensors, but lately we've seen Apple begin to produce more things in-house. It's certainly within the realm of possibility that Apple's efforts with in-house components will soon extend to image sensors, so stay tuned for more.