Apple is worth more than Greece with $400B market cap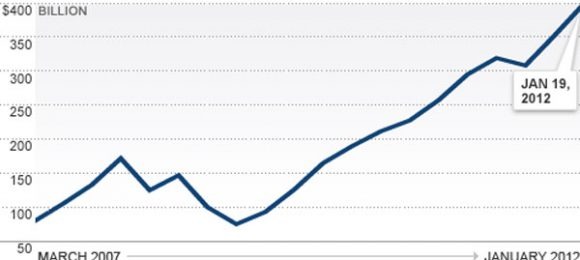 Apple is certainly one of the biggest tech firms in the world. Apple is riding high on the back of some of the most successful products in the world thanks to the booming popularity of things like the iPad, iPhone, and Mac computers. With the success of the Apple offerings, the company has, or at least had, a giant market cap of $400 billion reports CNN money.
It's hard to wrap your brain around that kind of money, but that makes Apple worth more than the country of Greece. Apple only stayed at $400 billion for a short while yesterday morning before it slipped back to $398 billion market cap. Even at $398 billion, Apple is still the world's most valuable tech firm.
While Apple rode high at $400 billion, it had a market cap higher than the gross domestic product of several countries, including Greece, Austria, Argentina, and South Africa. With Apple worth so much already it's even more impressive that the company just keeps growing. I still wonder whether Apple will continue to be so successful after the sad passing of Steve Jobs.
[via CNN]