Apple iPod nano gets video camera, FM radio, more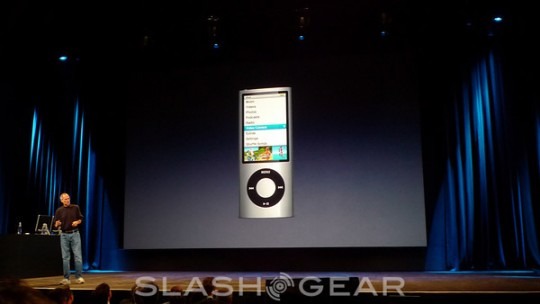 Apple have announced a new iPod nano, and as predicted it includes a video camera.  The new iPod nano fifth-generation has a larger, 2.2-inch display and a new polished anodyzed aluminum casing, and as well as the camera the Cupertino company have managed to squeeze in an FM radio, pedometer with Nike support, speaker and microphone.
The radio in the nano supports music tagging, so that listeners can tag a track they like and then purchase it from iTunes later.  Video recorded on the PMP can be watched on-device or sync'd with a Mac or PC, before being uploaded to YouTube.
The Apple iPod nano is available from today, priced at $149 for the 8GB model and $179 for the 16GB model.  Colors available include red, orange, yellow, green, light blue, dark blue, graphite, silver and pink.
Check out the hands-on gallery here
[vms 305ca9ad266f53bc8251]
Press Release:
Apple Introduces New iPod nano With Built-in Video Camera

World's Most Popular Music Player Now Available in Nine Brilliant Colors

SAN FRANCISCO, Sept. 9 /PRNewswire-FirstCall/ — Apple today introduced the new iPod nano , adding a video camera, mic and speaker to the world's most popular music player. Music lovers can now shoot video wherever they are, view it on their iPod nano and use their computers to easily transfer their videos to YouTube. The new iPod nano features an ultra-thin and sleek design with a larger 2.2-inch color display and gorgeous polished aluminum and glass enclosure. iPod nano also features a built-in FM radio with live pause and iTunes Tagging, as well as a built-in pedometer. The new iPod nano is available today in an 8GB model for $149 and a 16GB model for $179, and comes in nine brilliant colors including silver, black, purple, blue, green, orange, yellow, (PRODUCT) RED and pink.

"iPod nano is the world's most popular music player with over 100 million sold," said Steve Jobs, Apple's CEO. "And now we've added a video camera to its incredibly thin design, without any additional cost to the user."

iPod nano features a larger 2.2-inch display for easier navigating, enjoying album art, or shooting and viewing video clips. iPod nano is ultra-portable so users can shoot video wherever they are, in either portrait or landscape. iPod nano customers can share videos instantly with friends using its display and speaker, or sync with a Mac or PC and share them on YouTube, MobileMe(TM), Facebook or via email.* iPod nano can even shoot videos with fun real-time effects such as Thermal, Film Grain, Kaleido and X-Ray.

iPod nano now has a built-in FM radio with live pause and iTunes Tagging. Live pause lets iPod nano users pause and resume playing their favorite FM radio shows. iTunes Tagging is great when users hear a song they like, they can simply tag it, and then preview and purchase that song when they sync to iTunes.** iPod nano also features Genius Mixes, which automatically creates up to 12 endless mixes of songs from your iTunes library that go great together.

iPod nano is also now an even better workout companion with the new built-in pedometer. iPod nano can keep track of your steps taken and calories burned, helping you meet your short and long-term fitness goals.

iPod nano provides up to 24 hours of music playback or five hours of video playback on a single charge. The 8GB model holds up to 2,000 songs, 7,000 photos, eight hours of video and seven hours of captured video; and the 16GB model holds up to 4,000 songs, 14,000 photos, 16 hours of video and 14 hours of captured video.***

iPod is the world's most popular family of digital music players with over 220 million sold. Apple's new holiday lineup includes iPod shuffle in five great colors starting at just $59; iPod classic in a new 160GB model holding up to 40,000 songs for $249; the new iPod nano with a video camera available in nine brilliant polished aluminum colors starting at $149; and the revolutionary iPod touch now starting at the breakthrough price of just $199.

Pricing & Availability

The new iPod nano is available immediately for a suggested price of $149 (US) for the 8GB model and $179 (US) for the 16GB model in silver, black, purple, blue, green, orange and pink through the Apple Store (www.apple.com), Apple's retail stores and Apple Authorized Resellers. The 8GB and 16GB iPod nano in yellow and (PRODUCT) RED are available through the Apple Store (www.apple.com) and Apple's retail stores. iPod nano requires a Mac with a USB 2.0 port, Mac OS X v10.4.11 or later and iTunes 9; or a Windows PC with a USB 2.0 port and Windows Vista or Windows XP Home or Professional (Service Pack 3) or later and iTunes 9.

*MobileMe is available to persons 13 and older. Annual membership fee and Internet access required. Terms apply.

**Currently available only in the US on radio stations that support iTunes Tagging.

***Battery life and number of charge cycles vary by use and settings. See www.apple.com/batteries for more information. Music capacity is based on four minutes per song and 128-Kbps AAC encoding; photo capacity is based on iPod-viewable photos transferred from iTunes; and video capacity is based on H.264 1.5 Mbps video at 640-by-480 resolution.

Apple ignited the personal computer revolution in the 1970s with the Apple II and reinvented the personal computer in the 1980s with the Macintosh. Today, Apple continues to lead the industry in innovation with its award-winning computers, OS X operating system and iLife and professional applications. Apple is also spearheading the digital media revolution with its iPod portable music and video players and iTunes online store, and has entered the mobile phone market with its revolutionary iPhone.

2009 Apple Inc. All rights reserved. Apple, the Apple logo, Mac, Mac OS, Macintosh, iPod nano, iTunes, MobileMe, iPod, iPod shuffle, iPod classic, iPod touch and Apple Store are trademarks of Apple. Other company and product names may be trademarks of their respective owners.