Apple iPhone microUSB Adapter Appears To Pacify EU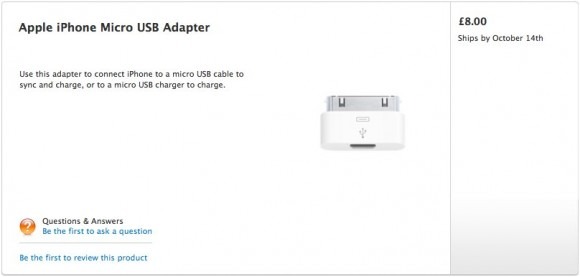 Apple has quietly added a new iPhone Micro USB Adapter to its accessory line-up, allowing the iPhone 4S along with the iPhone 4, 3GS and 3G to be synchronized or charged via microUSB cable. Currently showing up in the UK Apple Store, and expected to ship by October 14 – the release date for the iPhone 4S – the adapter is presumed to be the company's response to the EU directive standardizing microUSB for charging cellphones.
That may explain why it's not on sale – at least at the moment – in the US Apple Store, though European stores do have it listed. In the UK the adapter dongle is £8 ($13) while it's €9 in Europe, hooking up to the proprietary Apple sync port and offering a basic microUSB port.
It's a welcome addition, but it's unclear whether Apple will be including the adapter in the box with the iPhone 4S and other handsets for European buyers. So far the UK product page for the iPhone 4S would suggest that won't be the case, listing only the regular Dock Connector to USB cable and USB power adapter.
[via Engadget]