Apple iPad Vs HP TouchPad Tablet Matchup

Today we were treated to a presentation by HP that might completely turn webOS around, out of the dark spaces of everyone's doubt centers and into a very plausible option place for many soon-to-be seekers of tablets in this new market. The tablet in question is the HP TouchPad, running webOS 3.0 and looking like not a half bad idea for a workstation on the go. We decided to match it up against a couple contenders, first the Motorola XOOM Android tablet, now the Apple iPad. How does the TouchPad measure up? You be the judge.
As you're about to see, these two tablets are very similar in some ways, and very different in others. Will the iPad's massive library of applications from the Apple App Store keep you with the fruit? Or will you join the somehow brand sparkling new ship sailing out of HP headquarters today on seas called webOS 3.0?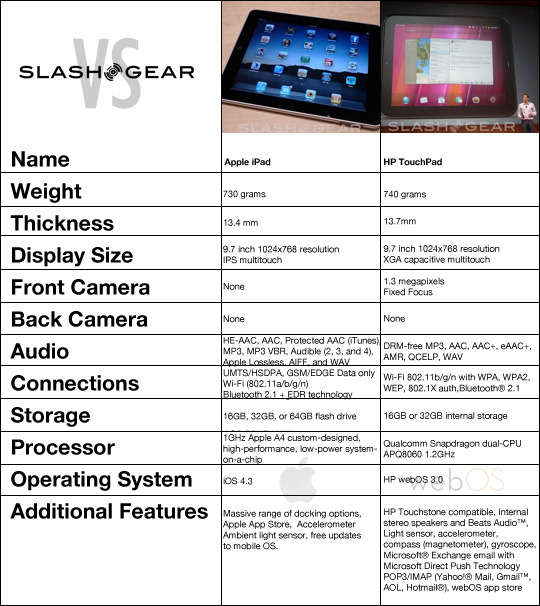 Check out the big chart and let us know what seems more enticing to you. We've been shaken today by the release of these new HP products, and we're certainly glad to see another contender in the tablet game, one that isn't a fruit nor is it a green robot. We've been watching webOS but we've not been placing any bets on it. Looks like that might very well be about to change.