Apple iOS 4.3.3 with "Bug Fix" for Location Tracking Now Available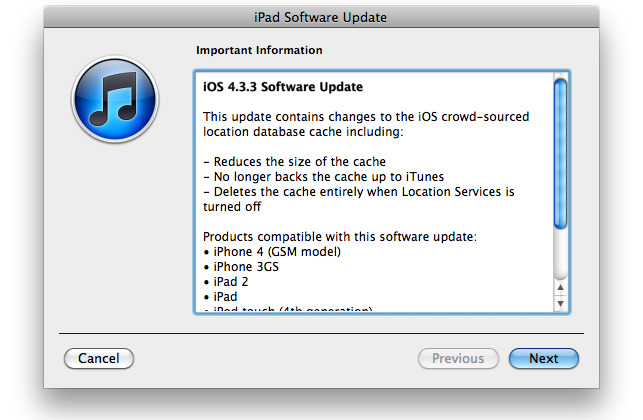 We have been closely following the iPhone 4 location tracking saga, and reported on Monday that Apple was getting ready to release iOS 4.3.3 to make it possible to clear your cache of location tracking, and to turn off the tracking completely. Now iOS 4.3.3 is available via iTunes for AT&T's iPhone 4, iPhone 3GS, iPads, and the fourth-gen iPod touch. There is a separate update, iOS 4.2.8, for Verizon's iPhone.
The release notes let us know that iOS 4.3.3 reduces the size of the location database cache, and stops backing up the cache to iTunes when your device is connected to a computer. It also deletes the cache completely when Location Services are turned off. There are possibly more bug fixes thrown into this update as well, but we'll have to wait and see on that. The update should be pushed to your device.
Apple had assured users that it was not tracking their movements, and that the location cache was just a "crowd-sourced Wi-Fi hotspot and cell tower database" that was used to speed up positioning fixes by the iPhone. Apple's full Q&A response is located here. But as this now well known graphic shows, by looking at the data, one can easily get an idea of where the iPhone (or other Apple device) user has been.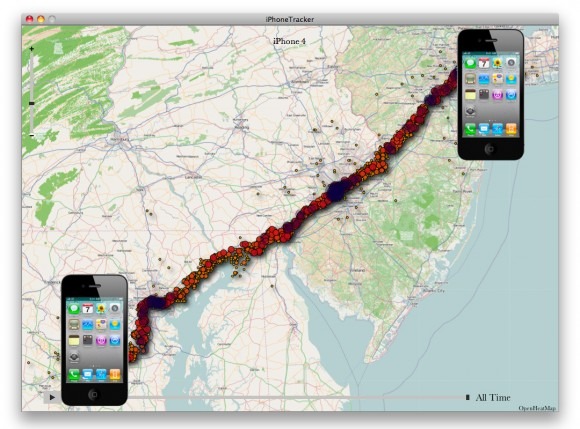 Apple had not said when the update would be available, so the fact that it is already here shows that they are taking into consideration the concerns of their users. Keep in mind, to make sure the cache is not stored on your iPhone or iPad, and that you are truly travelling incognito, you will need to turn Location Services off.
Have you installed the update? Any issues?