Apple iOS 4.1 Announced, Offers Fixes And Other Feature Additions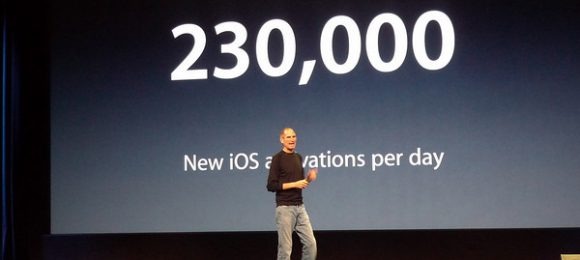 When Apple has an event, you know there's going to be a bit of a back story like situation happening. And today's event is no different. After Steve Jobs showed off that Steve Wozniak was in the house, and going over where they've launched brand new Apple retail locations, Jobs went on about iOS, and what they've accomplished so far, as well as officially announcing iOS 4.1.
First, there have been 120 million iOS-based devices launched since the debut of the original iPhone. As far as activations go, there are roughly 230,000 activations of an iOS-based device every day. As for the App Store? There's been about 6.5 billion downloads from the digital retail location, with about 200 applications downloaded every second. In total, there's over 250,000 apps in the App Store, and 25,000 in the iPad's App Store.
As for iOS 4.1? That's going to bring a lot of bug fixes to the table, including that proximity sensor issue, as well as overall performance on the iPhone 3G, and Bluetooth connectivity. You will be able to upload HD videos to YouTube and other sites, as well as access High Dynamic Range photos, right on the device. And, finally, Game Center is making its official debut. As far as release goes, that will be next week for the iPhone and iPod Touch, and will be a free download.
Stay tuned, as more is on the way. http://live.slashgear.com for up-to-the-second updates.