Apple investigates iPad Wi-Fi issues and replaces affected units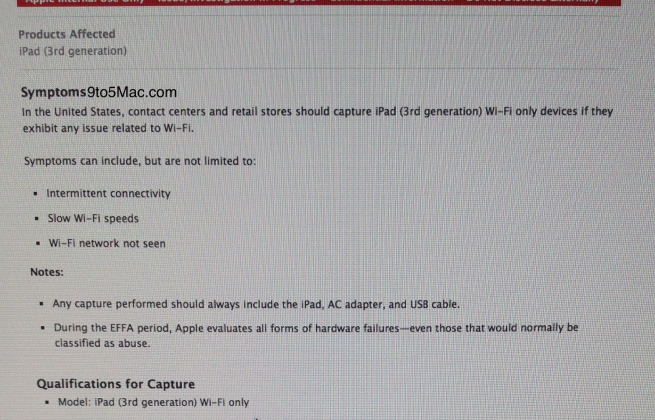 So far, most of the complaints on the new iPad that we have talked about have centered on how hot the tablet gets. There are some other issues though with some new iPad owners having a problem with Wi-Fi on the tablets. An internal AppleCare document has surfaced that shows Apple is investigating Wi-Fi issues that are affecting the new iPad.
Some users have complained about Wi-Fi on the new iPad with a variety of issues, including connection drops, slow download and upload speeds, and issues picking up a Wi-Fi signal at all in some instances. Some users have reported using the new iPad alongside a notebook with a notebook having perfect reception in the iPad showing a very weak signal.
9to5Mac reports that a thread about the issue on the Apple support forums has 700 replies from users complaining of similar issues. The internal AppleCare document states retail stores should replace or "capture" any Wi-Fi only device that the exhibit any issue related to Wi-Fi such as intermittent connectivity, slow Wi-Fi speeds, and not seeing Wi-Fi networks. The tablets are to be returned for testing along with included accessories.
[via 9to5Mac]