Apple iMovie is Coming to iPhone 4
The hits just keep on coming from Apple, as Steve Jobs continues to command the stage at WWDC 2010. While the iPhone 4 was probably the biggest (even if most expected) piece of news announced today, another heavy hitter just hit the stage. The iPHone 4's camera can take HD video up to 720p, at 30fps, but what good is that if you can't edit those movies from your phone, right? That's where iMovie for iPhone comes in, ladies and gentlemen.
iMovie for the iPhone is written specifically for the smaller, mobile device. There's a big preview screen that goes on top of what you're working on, and a timeline underneath. It looks a lot like iMovie for Mac, which isn't surprising at all. You can pinch to alter the timeline scale at your will, and you can also record video directly into the iMovie app, or you can simply import recorded videos whenever you want.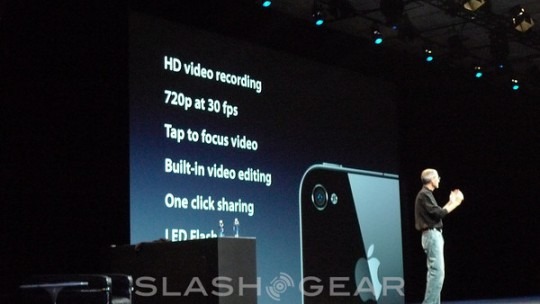 You can apply themes, toggle music on and off, and use your iPod library as your music selection. You can export video in 360p, 520p, or 720p HD. iMovie will be $4.99 in the App Store. "If we approve it!" announced Jobs when he walked back on stage.
Keep up with the live coverage at our liveblog: http://live.slasghear.com. It's still coming!