Apple iMac NVIDIA graphics leak fuels replacement rumor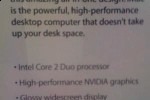 Further fuel on the new iMac rumors this week, culminating in this supposed snap of Apple marketing materials that lists "High-performance NVIDIA graphics" among the specifications of the 20- and 24-inch machines.  The company's all-in-one desktop range is considered long overdue an update, with predictions circulating since October of last year that Apple would bring the iMac into line with other models by adding NVIDIA's latest graphics chipsets.
However Apple themselves denied any update was coming, claiming that their holiday lineup was solid.  According to some reports, resellers are low on stocks of the current iMac models, and education Apple sales teams have been given permission to offer special pricing on what remains.
Apple used the NVIDIA graphics chipsets in their latest unibody MacBook, MacBook Pro and MacBook Air laptops.  The Pro has switchable graphics, with an option to use a higher-performance GeForce chip for heavy video crunching.  It's presumed that Apple will offer something along those lines in the new iMacs, which would allow them not only to advertise their strong graphics performance but also their eco-friendly nature.