Apple hires Adobe exec Todd Teresi to head iAd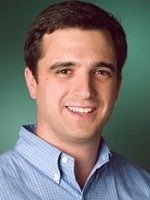 The long vacant spot as the head of the Apple's iAd mobile advertising division has finally been filled. According to Bloomberg's Adam Satariano, Apple has scooped up Adobe exec Todd Teresi for the position. Teresi was a VP and general manager of Adobe's Media Solutions division for the past nine months.
Prior to Adobe, Teresi served as the Chief Revenue Officer for Quantcast and, still earlier, he was a senior VP at Yahoo. He will now take the position as head of Apple's iAd division, which has been without a leader since Andy Miller left the post back in August of last year. Miller left to join venture capital firm Highland Capital.
The iAd platform has been struggling for the past year. Despite launching as a high-end marketing option with million-dollar-buy-ins, Apple has had to cut prices to generate more interest. The reluctance of developers may have to do with the platforms lock-in to iOS, whereas other advertising options such as Google's AdMob are cross-platform. Apple's insistence on controlling development of the ads itself also didn't help.
[via MacRumors]