Apple greets CES 2019 with snarky iPhone privacy billboard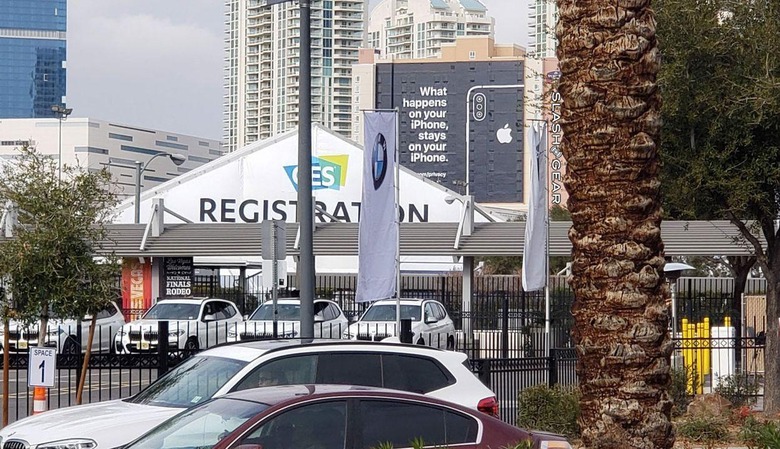 The 2019 Consumer Electronics Show kicks off in earnest on Monday, and like every year before Apple won't be participating, instead preferring its own carefully planned media events. Despite this, the company has clearly made itself known this year with a large billboard ad placed right next to the Las Vegas Convention Center, where CES is taking place. The ad isn't for a new Apple product, rather it's throwing shade at other companies in attendance by highlighting Apple's privacy policies.
With a minimal, white-text-on-black design, the ad features text prominently reading "What happens on your iPhone, stays on your iPhone," alongside an outline of Apple's smartphone. It's a clever play on the iconic slogan "what happens in Vegas stays in Vegas." The real point of the ad, however, is the web address under the text, a link to apple.com/privacy, which goes into detail about Apple's privacy and security features, including how data related to Face ID, Touch ID, Apple Pay, and users' health remain protected.
Apple's billboard, which was first spotted and shared on Twitter by Engadget's Chris Velazco, is clearly at dig at the various products and services appearing at CES that aren't placing enough priority on users' privacy and security. Apple has rightly earned a reputation for protecting users and their data, not only from third-parties, but making it inaccessible to the company itself.
Apple never shows up at CES, so I can't say I saw this coming. pic.twitter.com/8jjiBSEu7z

— Chris Velazco (@chrisvelazco) January 4, 2019
It could also be seen as a bit of a rip on Amazon's Alexa and Google's Assistant, which have had a huge presence at CES over the last few years, and are expected to again this year with a growing number of products featuring the AIs' integration. While these are more popular than Siri, they've each had their own privacy scandals recently, including Alexa recording private conversations, and devices running Google's Android being used by manufacturers to track users and harvest information without their knowledge.
As of now the Apple ad is only appearing in this one location in Las Vegas, so it's not likely to be a major advertising campaign. Yes, Apple is trying to directly promote itself and the iPhone, but it's also bringing attention to the importance of privacy at an industry event where it's easy to be distracted by the latest features and flashiest specs.