Apple forces devs to kill key feature in some apps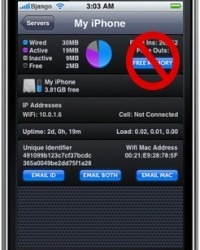 Some days I wonder if Steve Jobs isn't the face hiding under Darth Vader's mask. Apparently, Apple has decided to force developers to remove a key function in some apps, after they originally approved the apps and allowed them to be sold.
Laptop Magazine reports that iPhone users of Bjango's iStat app have found that the free memory function of the app is now missing after a recent update. The application previously allowed an iPhone owner to monitor the iPhones internal stats and had allowed users to free up wired and inactive memory to boost performance and battery life.
The problem is that users who bought the application often bought it specifically for the function Apple requested the developer remove. That means that many of the buyers are left felling as they were baited in and then the product they bought was switched. Other apps that enabled users to free up memory on their iPhone were also forced to remove those features.