Apple follows AT&T, now selling iPhone contract free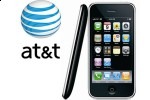 Apple Retail stores and AT&T stores are now selling iPhone 3G's completely contract free.  However, you will be paying the full price of $599/$699 for 8 GB or 16 GB handsets respectively.  It was rumored that Apple would make this move following AT&T's announcement that they would offer the iPhone 3G to existing customers free from contract obligations.
Apple retail stores are not requiring purchasers to be existing AT&T customers, however, so anyone who isn't an existing AT&T customer interested in purchasing an iPhone without a contract should make their purchase through Apple.  It also appears that AT&T has made discounted iPhones available to those willing to extend their contracts, but not yet eligible for an upgrade.  Early upgrade iPhones are priced at $399 and $499.  The iPhone 3G's are still available at the $199/$299 price points but obviously still require the 2-year contract.
This is an interesting move considering the strong efforts that Apple and AT&T made over preventing unlockers from getting iPhones onto other networks.  Previously, the in-store activation that was required by Apple and AT&T made it difficult and expensive for users to unlock their iPhone 3Gs' and switch them to T-Mobile or other international carriers.  With that preventative measure out of the way, will we see an influx of iPhone 3G's on T-Mobile, or will it be relatively pointless since T-Mobile doesn't have 3G networks rolled out everywhere just yet?
[Via MacRumors]