Apple file iPod nano patent for screen-off gesture controls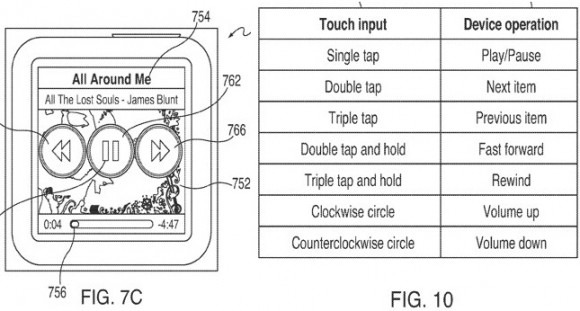 An Apple patent covering the touchscreen interface for the iPod nano has surfaced, suggesting that the company is considering alternative ways to control the compact PMP even when the display is out of sight in your pocket or bag. According to patent 20100328224, "Playback Control using a Touch Interface", the nano touchscreen could be used to recognize taps and gestures even if the display itself is switched off.
"An electronic device, however, may not have dedicated playback control buttons or interfaces. In addition, a user may wish to control media playback operations without needing to first look at a display to select a specific displayed option. To allow a user to control media playback using a touch sensing device without requiring the selection of displayed options, the electronic device can include a mode or configuration for which the touch sensing device can sense touch events, but not display any content on a display. For example, an electronic device with a touch screen can have a mode in which no content is displayed on the touch screen (e.g., the touch screen remains dark), but the touch screen is operative to detect touch events of the user." Apple patent 20100328224
Rather than demanding users aim for where the onscreen controls would normally be found, the iPod nano – or, indeed, another touchscreen device – would instead respond to more generic inputs. For instance, a single tap could toggle between play/pause while double- or triple-taps could skip forward or backward. Tracing circles on the touchscreen could adjust the volume up or down.
[via Latest Patents]