Apple dismiss iMac, Mac mini update rumors: 'Holiday line-up is set'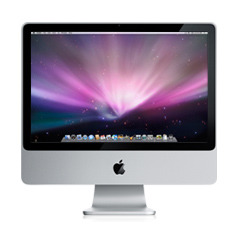 Apple has moved to quash rumors that they plan last-minute changes to their computing range before the end of 2008.  In what is likely intended to reassure would-be customers that holiday purchases won't immediately be outdated by new models, Apple press representative Bill Evans told MacWorld that "our holiday line-up is set."  It casts the recent speculation that Apple was planning imminent tweaks to the iMac and Mac mini ranges into doubt, and pushes those timescales into 2009 at the earliest.
With the announcement of the new MacBook and MacBook Pro ranges, attention had turned to Apple's desktop range as likely candidates for changes.  The iMac was tipped for a speed boost, and some had pointed to the all-in-one's non-standard Intel processors and outdated Radeon HD 2400 and 2600 graphics options as in need of an update. 
Meanwhile talk of the Mac mini had had the compact computer oscillating between death-throws and imminent ascendance.  Apple themselves warned retailers that supplies of the existing model were running short, prompting rumors that it had reached the end of its life, but follow-up reports suggested that, on the contrary, it being so wildly popular had meant Apple could hold off on upgrades until now.
It has been speculated that Apple's move toward using more NVIDIA hardware in their systems has delayed the expected changes to their desktops.  That could include not only graphics GPUs but whole NVIDIA chipsets, a significant change in architecture.
[via Apple Insider]