Apple "completely rethinking" modular Mac Pro plus Apple displays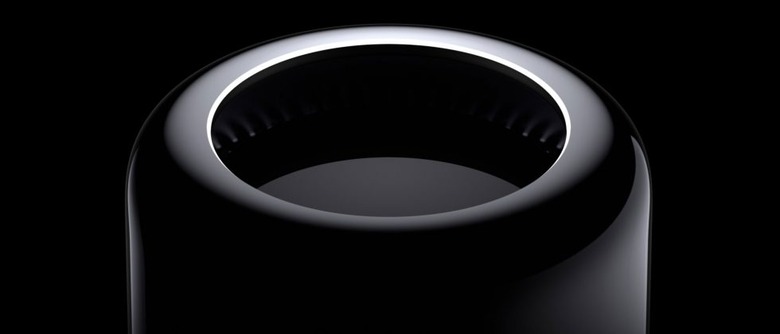 The fears aren't true: Apple hasn't given up on pro users and the Mac Pro. It just made a mistake. After months – maybe years – of speculation, Apple has confirmed today that a new Mac Pro desktop is being worked on. No mere update to the existing, trash can-shaped model that has proved so controversial. This is a completely new machine.
Details are slight. Apple told Daring Fireball that the new Mac Pro would be completely modular, designed with frequent upgrades in mind – and addressing one of the most common criticisms of the existing computer. It'll be a true powerhouse for the most aggressive power users at the top of the macOS tree. However, it won't be on sale this year.
Why the delay? Turns out, Apple's powers of tech prognostication aren't infallible and, despite the suggestions of some, where it goes the rest of the tech industry doesn't necessarily follow. It made a big bet on system architecture with the most recent Mac Pro, and as big bets can – painfully – be, it turned out to be a bad one.
Apple saw multiple GPUs as the future of system-intensive desktop processing. As such, it built the Mac Pro around a dual-GPU arrangement. At the same time, it envisaged Thunderbolt 2 peripherals being the way forward for expansion, rather than the more traditional "desktop computer" enclosure of the previous, much larger Mac Pro.
Together, those factors allowed Apple to make an astonishingly compact computer. However the company also "designed ourselves into a bit of a thermal corner," Apple's Craig Federighi admits. Made with the heat output of twin GPUs in mind, the form-factor and cooling system simply wasn't up to the task of keeping a single, large GPU working under load.
That proved to be the direction the graphics industry followed, and Apple's bet went sour. Meanwhile, the peripheral industry simply wasn't moving fast enough – or embracing Thunderbolt 2 eagerly enough – to make external expansion a realistic possibility. Apple itself compounded that by being among the first to embrace Thunderbolt 3 with its USB-C connector: the 5K display it collaborated with LG on for the new MacBook Pro, for instance, won't work with the current Mac Pro.
A whole new Mac Pro was required, shaped to accommodate the actual way the GPU industry had developed, not how Apple hoped it would. Problem is, a whole new computer takes time, hence the 2018 release window Apple has confirmed today. In the meantime we have a slight spec bump.
It really is slight, too. $2,999 gets you six Intel Xeon CPU cores rather than four, and dual AMD G500 GPUs instead of dual G300. Spend $3,999 meanwhile, and you get eight CPU cores, up from six, and dual D800 GPUs instead of dual D500.
It's a stopgap, certainly. You don't get Thunderbolt 3 or USB Type-C, and Apple still doesn't have an official monitor of its own to work with the computer. The good news is that, along with the new Mac Pro, there are also new Apple pro displays in the pipeline.
Those we'd expect to play nicely with the latest MacBook Pro with Touch Bar, too, even if Apple is playing coy with specifics. In the meantime, there are also new iMac models in the works, complete with similarly high-end configurations that acknowledge that the slender all-in-one is increasingly being used by people who might once have only settled for a Mac Pro.
The new iMacs will be launching later this year. The new Mac Pro models will land in 2018 at the earliest, along with the Apple pro displays. As for the spec-bump Mac Pro, that's available to order today.