Apple streaming Tim Cook speech with Goldman Sachs Conference here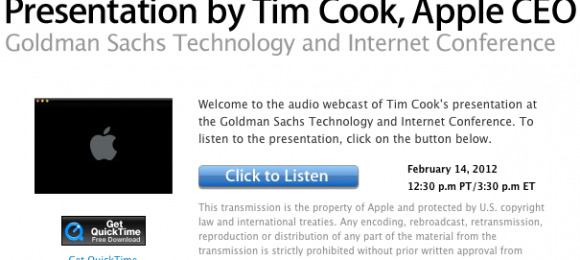 Today you'll be hearing more than a couple stories from the Apple world coming from Tim Cook as he speaks at a Goldman Sachs Conference for investors. This talk is being streamed live via QuickTime from Apple's own Investor website for anyone who'd love to take a listen to do so. This talk has covered supplier accountability, products, and the fact that Cook cannot live without his Apple TV.
This talk covers many topics we've been speaking about over the past few weeks, namely the first and foremost on many people's minds: what will Apple do about the suggestions that they've got bad working conditions in supplier plants around the world? This of course was the
as he started the conference, assuring the world that it was no small subject for Apple and that they'd be taking measures above and beyond the call of duty.
Have a peek at the feed right now at
http://www.apple.com/quicktime/conference/
and listen along with us as we continue to report the news from within. Do you think Cook will reveal any information on the upcoming iPad release? We're guessing no – but there's always great things to be heard when Tim Cook is speaking – listen in!