Apple camera patent takes aim at GoPro's market
The Apple Watch is coming in a few short months, but a new patent granted to Apple details it may work with more than an iPhone. The patent awarded to Apple is for a sports camera that can be mounted, much like a GoPro. The patent also tells us the camera will work underwater, and can be controlled remotely via a smartwatch. The camera patent includes another patent Apple has, which they purchased from Kodak in 2013. News of the patent sent GoPro investors scurrying.
According to CNN Money, GoPro stock dropped a full 10% today as investors began jumping ship.
The sports camera would be controllable from an Apple Watch, and have the ability to record sound underwater. Those are currently the lone differentiating features from a GoPro.
Apple involving themselves in the sports camera market would be a direct threat to GoPro, where they've long held sway over the category. Others, like the HTC Re or Polaroid Cube, provide a more entry-level experience, but none offer the image quality or reliability of GoPro.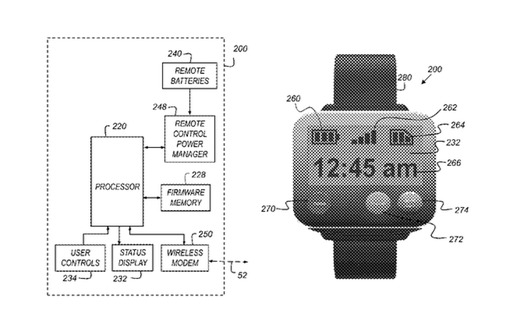 Apple's camera would almost certainly match or exceed GoPro's capabilities, and have fans eagerly doling out money.
Still, aside from the logo, there's not much differentiating the Apple sports camera detailed in these patents from a GoPro. It's got a different form factor, sure, but remains more an also-ran than exceptional technology.
At least on paper.
Apple's iPhone is a go-to device for casual photography, and an Apple sports camera would round out their image capture hardware portfolio in an interesting way, but it's not terribly unique. Still, it put GoPro stock in a downward spiral, so maybe the logo really is as powerful as some think.
Source: USPTO
Via: Patently Apple